Lifetime's hit film The Gabby Douglas Story arrives on DVD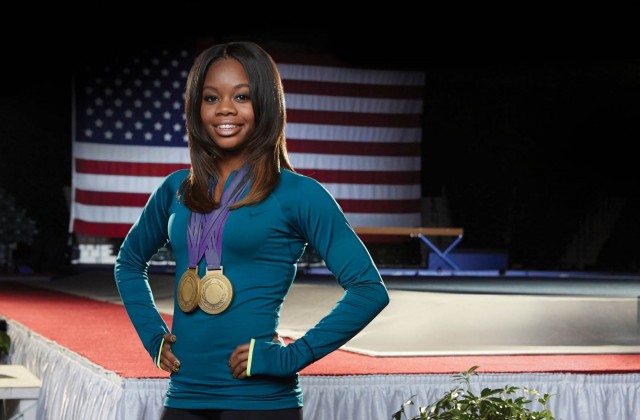 Inspirational and enlightening, 'The Gabby Douglas Story' is ideal for family viewing – but comes up a little short in the bonus features department. Writer Jaylen Christie reviews the DVD release of the hit Lifetime film.
Growing up, I distinctly remember the Lifetime network made-for-TV movies being appointment television for my mother. I can vividly recall her watching each film intently, glued to the screen — and God help anyone who'd dare interrupt her. It's funny because I felt the exact same way as I viewed The Gabby Douglas Story, an inspirational biographical film brought to us by the Lifetime Network.
Originally debuting on Lifetime back in February, The Gabby Douglas Story is now on DVD, and I couldn't be happier. As someone who writes about minorities in television and film and yearns for more, um, colorful fare on the airwaves, I believe this film is just what the doctor ordered. By now, we should all know just who Gabrielle Douglas is, but for those of you living under a rock, I'll bring you up to speed free of charge. Douglas, a real girl wonder, turned heads in 2012 when at the age of 16 she became the first African-American gymnast in Olympic history to become the individual all-around champion. Additionally, Douglas also became the first American gymnast – period – to win gold medals in both the individual all-around and team competitions.
That's right, folks. This chick is bad.
But bad in the good way! Good is the same word that can be used to describe the film which I honestly found very entertaining. Here at the offices of CliqueClack, I'm probably known as the writer who's overly opinionated and possibly hard to please … and that's fine. However, in all sincerity, this film was really fun to watch and is undoubtedly perfect for family viewing which is great in this day and age.
What I truly liked about the film, aside from the encouraging story itself, was the brilliant casting choices in Regina King, S. Epatha Merkerson and Imani Hakim as Douglas herself. I've been a fan of King's since I saw Ray back in 2005, and I think we all know that Merkerson can do no wrong. However, I was particularly impressed with Hakim's performance as the title character. It was in college that I discovered this young actress on Everybody Hates Chris which was being syndicated on BET. As Douglas, Hakim showcases strength, perseverance and makes the Olympic champion somewhat relatable. That's pretty good in my opinion.
I'm not ashamed to admit that I found myself talking to the screen a few times. What can I say? I was captivated. The movie comes from Sony Pictures Home Entertainment and is presented in 1.78:1 anamorphic widescreen. Its audio is done by the lovely folks at Dolby Digital, and its subtitles come in English, English SDH, and French. That's pretty typical. What I would have enjoyed is the inclusion of some behind-the-scenes features. The DVD is sorely lacking a commentary, bloopers or featurettes with cast interviews. That's a bit of a letdown, but I suppose the quality of the film makes up for it. The director cleverly interjects real footage of Douglas herself performing several amazing gymnastic feats … and there's a nice cameo from the Olympian at the beginning as well. That has to count for something.
Take my advice and pick this DVD up. It's good for watching with your family, especially young girls with big dreams. A lack of bonus features may keep it from winning the gold – but silver's never been bad in my book.
Follow me on Twitter @thesuperflynerd!
Photo Credit: Lifetime