Television's Gotham is finally upon us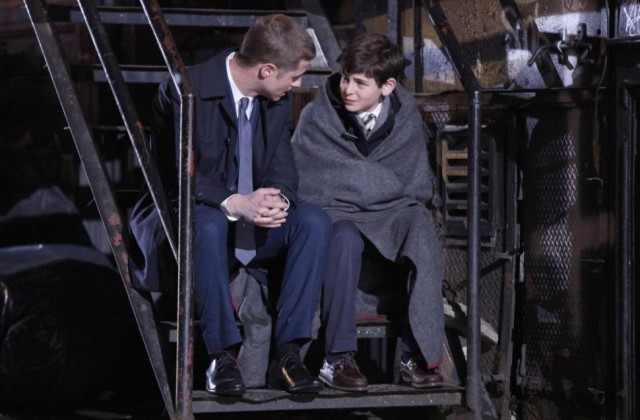 Are you ready for 'Gotham?' Warner Bros. showcase series about the rise of Jim Gordon and the origins of some of Batman's most popular villains? To whet your appetite here is a trio of videos of some of its stars from this year's San Diego Comic-Con.
It's been a couple of months since Comic-Con but we're finally within reach of one of the most anticipated shows of the new television season: Gotham. The series, if you don't know, tells of the story of a young Jim Gordon and his experiences and rise in the ranks of Gotham's police force along with origin stories of many Batman villains. (It premieres this Monday on FOX.)
I got the opportunity to sit in at a filled-to-capacity press room with many of the notables in the freshman series.
And when I say filled to capacity, I'm not talkin' turkey. I was one of the last media members allowed in the room; quite a bit of jostling was needed to accommodate the better part of the last dozen of us who squeezed in. Seating at the tables was tighter than tight — we were practically in each others' laps. You cozyed up to your seatmate quickly and introduced yourself kindly so you could set up your recording equipment or you were out of luck. Real estate was at a premium.
But it was worth it in the end, even though not all the series' stars in attendance were able to make each table (stars Ben McKenzie, Donal Logue, Erin Richards and Jada Pinkett Smith as well as executive producers Bruno Heller and Danny Cannon) but our table did host , Camren Bicondova (Selina Kyle), Robin Lord Taylor (Oswald Cobblepot), and David Mazouz (Bruce Wayne) — his video is coming soon.
The nifty thing about the three was the focus and enthusiasm they had for their characters. 13 year old David Mazouz (remember him as the emotionally challenged Jake Bohm from the short lived Touch with Kiefer Sutherland?) was especially articulate and impressive in what he had to say and had some interesting takes on his character:
Camren Bicoondova discusses a few tidbits on her audition for the role of Selina Kyle:
Someone who looked as if he was having a lot of fun — not only with the series but at Comic-Con itself — was Robin Lord Taylor who touched on some of the inter-relationships with others in the series and more:
Having sat down with these three, I couldn't help but be even more pumped about the show's premiere. At the time, it was still a long two months before it finally aired.
Now? It's at the doorstep and we're ready to be immersed in the fog and intrigue of Gotham.
Photo Credit: FOX