Outlander at SDCC: What we learned about the first season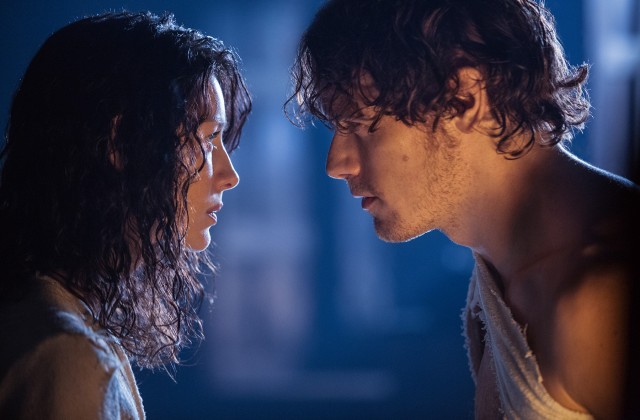 Starz' 'Outlander' premieres August 9th, and we talked to the cast and producer Ron Moore to find out everything we could about the first season.
First published in 1991, Diana Gabaldon's series of Outlander books are, to the excitement of fans everywhere, finally being adapted for television. The show, premiering August 9th (though the premiere is available to watch online now at Starz.com) stars Sam Heughan as Jaime Frasier, Caitriona Balfe as Claire Randall (nee Beauchamp), Tobias Menzies as both Frank and Jonathan Randall, Graham McTavish as Dougal MacKenzie, Lotte Verbeek as Gellis Duncan and is executive produced by Ron Moore. We sat down with them during this year's San Diego Comic-Con, and learned about the show's first season.
The books have a lot of fans, so there's a corresponding amount of pressure
Fans have been waiting for twenty-three years to see these characters brought to life. "I think there is definitely pressure to get this right. But we've been very lucky that we've been supported by Diana from pretty much the beginning … so you've got this wealth of knowledge to draw upon" says Heughan, who plays Jaime. " What we have to focus on is our character, and being true to that" adds his co-star Balfe.
Scotland is almost a character in and of itself
There is no place else on the planet that they could have filmed this show. The settings are absolutely stunning. McTavish – a native Scot – is appreciative of the cinematography and care with which the filming is done. The first episode opens with a long shot that, if it does nothing else, hits viewers over the head with the idea that Scotland is an incredibly beautiful place. "We would spend all day setting up shots, because they were so particular how it was lit and how the set was decorated; it was amazing to be there" says McTavish.
The cast is proud of the show and were almost nervous about sharing it with audiences
Filming on location in Scotland, the cast has been isolated from the public as the premiere has grown closer. Between the TCA Summer Press Tour and San Diego Comic-Con, they've only recently "peeked over the parapet" to see how the show's buzz has developed. Heughan: "There's an element of sadness, yesterday [at the premiere screening] releasing this … we've been working on this for a year, giving our heart and soul into it, and suddenly we have to give this over to people." You can tell they are nervous, but having seen the first episode, they have no reason to be.
The show will follow the books fairly closely
"The first two episodes set up the story, much like in the book, but then the journey begins. Each episode has its own feel to it, like a chapter almost, and it really turns it on its head." Heughan also hinted that Ron Moore will play around with perspective to tell the story (The series used a growing number of POVs as each book was released, though Claire is the only true first person perspective).
This means they are not skipping any of the darker material
The cast teased that this season's story includes some pretty dark moments. "It's a major thing that happens to [Jaime], and it will probably test his character … he questions everything. He questions who he is and what he's always believed about himself," says Heughan. They've not yet filmed the scenes in question, but it sounds like the show isn't shying away from the darkness; a good thing, as subsequent books are full of them as well.
It was important, however, to focus more on Frank Randall in the first episode
There is more Frank in the series than in the book, helping to fill out the relationship between he and Claire. They wanted to develop Frank and Claire as a relationship that has real depth. At some point Claire has to make a choice, and the show wants audiences to be more torn than perhaps they were when reading the book.
Menzies did a good deal of research into the two different time periods in an attempt to draw the differences between the two characters (Frank and Jonathan "Black Jack" Randall). Ron Moore shared an important note with the actor, that "both Frank and Jack are two men shaped arguably by their experiences at war … with very different results. Frank, by the love of a good woman, has survived … whereas Jack has gone to a very dark place."
Filming a period piece provided for some fun with horses and costumes
"[Horseback riding is] actually one of my favorite parts … it just feels great. It's the stuff that you dream of when you're a kid," says Balfe. She and Heughan apparently have developed a competition on who can get the horses to like them best. "It's not a competition; it's my horse and she keeps feeding him sugary treats!" protested Heughan. (I commented to them both at this point in the interview how their dynamic even at the table proves just how good their chemistry will be on screen.)
Becoming accustomed to wearing kilts regularly has provided some fun moments. Balfe says that "she gets flashed quite a lot," a problem that the cast and crew have just gotten used to throughout the production. Once the actors have grown accustomed to the … erm … freedom, it is tough to go back: "It is actually very comfortable riding a horse in a kilt. I recommend it," says Heughan.
Why Ron Moore wanted to bring this story to life
The character of Claire is one of the main reasons Moore was interested in doing Outlander as a series, "I thought she was smart, strong and interesting. I liked her voice all the way through the book." As a history buff, he also thought doing a piece on the specific historical period would also provide for compelling storytelling. In the books, "the period was realized with a great deal of detail and authenticity, and the plot itself had a lot of twists and turns and reversals of fortune that I didn't see coming" that would be great for television.
There are plans for future books, and the challenges those stories might bring
If the show lasts a couple of seasons, they have a plan on how to handle changing times, ages and locations. Most importantly, there is no plan to recast any of the actors (though sadly, wee Rodger did not show up in the premiere). But the changes mean good things are coming. "There's a lot of interesting casting still coming up, because there's so many characters we haven't gotten to in book one," says Moore.
But the actors know what the following books bring for their characters?
Most haven't read past the first book. Menzies has started in on the second, Balfe is looking forward to finishing filming this year so she can start on the second (she flew through the first book in a weekend), Heughan is nearing the end of book two. "I've read the first one. I didn't want to get ahead of myself … but people keep telling me things that happen," kids McTavish. Considering how much we learn about the backstories of certain characters in later books, series author Diana Gabaldon played an important role in helping fill out the characters for the actors.
The show has a great title sequence
Moore is proud of the main title sequence. "Bear [McCreary] did a great job scoring it, Raya [Yarbrough] sings … we shot some stuff that was specific for the title and other pieces were outtakes or unused angles from other episodes. It was a process; it took a few weeks to pull it all together." While many shows are eschewing these sequences – often for time – there has been a small resurgence with shows – TURN for example – and Outlander continues in that trend. "It takes you to this place and to this world in a very nice way, and keeps the two periods alive and reminds you of the time travel aspect with it becoming all about that."
Menzies has recently joined the cast of two fan-favorite adaptations
Menzies has played roles in both Outlander and Game of Thrones this year. He complimented David Benioff and Dan Weiss on the sophistication with which the Thrones adaptation has been brought to the screen. But getting on the "ground level," as with Outlander, is fun as he's had the ability to weigh in on a variety of decisions, including apparently his costume.
Adapting a story is a different process than writing something new
Outlander differs from Moore's previous work on Battlestar Galactica in that there's a very specific roadmap fans will expect the show to follow. On BSG Moore was unafraid to let the story develop organically and take turns not necessarily envisioned in the breaking process. "It's very different; it's been an interesting exercise just in terms of that, in writing and structuring a show in the writer's room because normally on an original piece you are sitting there tossing out ideas all the time … you don't do that here; we try to stay in the lane. We start with the order that's laid out for us in the book … It's a different task intellectually." Diana Gabaldon has been a tremendous help, making sure that fan favorite lines didn't end up on the cutting room floor.
Gellis and Dougal are characters that should be interesting to watch
Gellis Duncan is not at all what she seems, but Verbeek promises that we'll learn more and more about her over the course of the first season, "We see everything from Claire's perspective, so everything we see of Gellis is what she actually gets to know about her."
With Gellis, there's a lot of game playing; she shows different faces to different people. She always seems to know a bit more than everyone around her. "When push comes to shove, she actually shows her true colors, which I thought was great to get to play all of that" says Verbeek. McTavish thinks Dougal is a complicated character, "He does bad things … I guess you could describe them as bad possibly … but he does good things. His relationship with Jaime is evidence of that complication." Both have very specific motivations and goals that are not immediately evident at the beginning of the story.
Fans of the Loch Ness Monster will not be happy
There was a lot of discussion about the decision to leave out a scene from the book where Claire encounters the famed Loch Ness Monster. Moore says that while it was a great passage in the book, translating that scene to the screen might have felt out of sync with the rest of the show …  but Menzies teased that he remembered that sequence in a script at some point during production.
Moore plans on recording podcasts for Outlander
It was a fan at the autograph signing at San Diego Comic-Con who reminded Moore of the podcasts that he did for Battlestar Galatica. The recordings, which served basically as commentaries that could be played in sync with each episode, were a great window into the production of the show. Thus, everyone needs to send a thank you note to the fan that brought a nice bottle of Scotch (Moore's refreshment of choice during recordings) to the signing.
Photo Credit: Starz