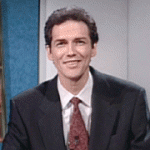 Sebastian's back guest-clacking for us again….
It took about two months until somebody finally told Conan O'Brien what his role is in the NBC decision to keep Jay Leno and give him the 10 PM timeslot. And Norm McDonald did so on Conan's own show.
He tells Conan he got outfoxed by Leno again. To me, that's about as funny as a guest in my livingroom standing up and urinating on my carpet. It's funny in a really bad bad way and even though I don't like Conan that much anymore, I find it kind of sickening.
What's more sickening than that is that the fun here is made just about Conan – and that's wrong. Because who's at fault here really? Who outfoxed whom here?
The answer is nobody outfoxed anybody. They will all be losers in this. And we will be too.
NBC loses for giving up on the 10 PM timeslot and basically waving the white flag. I already know the new kick-ass page lapel-pin for 30 Rockefeller Center. It looks something like this: "Proud to be #4″ and that's not the number of the page wearing it. They will lose the timeslot to any CSI that CBS will haul at them. CBS will simply clobber Leno into the ground and he'll have to smile while they do it.
Speaking of Leno, he himself will lose for not doing something that's actually worth anything. I said it before and I'll say it again, while he's really good at what he does, late night talk shows have that name because they are on late at night, because they can be done cheap and because they are so interchangeable day in and day out it hurts. It's the high class form of infomercials with actors/musicians/authors plugging their products like crazy. Leno's new show will be produced cheaper than any original drama, and what I don't get is why Leno doesn't have the urge to do something else than what he "does bes.t" Isn't it time for him to do something better with his life? Or does he actually love what he's doing? What do you think?
Conan, on the other hand, loses in multiple ways. Like Norm McDonald said: Leno beat him again. He'll most likely lose Max Weinberg to NY City and The Boss. And he loses the chance to ever become a late night legend. His prime years are coming up and he'll waste them in the 11:30p.m. timeslot on NBC, reaching a couple of hundred thousand more viewers than before, but don't we all expect the real A-list celebrities to pop up on Leno an hour earlier like they always did? Don't you think that getting your commercial on 90 minutes earlier than before with Leno will drain even more celebrity material towards Leno? And isn't it a possibility that Letterman will beat Conan in the ratings? Don't you think that this is all a big huge pile of feces for Conan and that when Norm McDonald told him so in a laughing manner he had the right reply ready for him? Don't we all know that Conan is so witty that he had the real punchline in his sleeve for McDonald?
The punchline being that NBC will pay him more money than ever before for doing the same work he did in a different timeslot but basically giving him carte blanche, for they have given up on winning? That the move to keep Leno and just push Conan an hour forward is financially viable but in the end the equivalent of moving production to a third world country and putting a "Made in Taiwan" on the NBC evening schedule? That what we got here is only good for ONE entity, namely General Electric? That this is as much of an intelligent programming schedule as putting on re-runs of shows from the '80s?
What really angers me about this move by NBC is that it will put more pressure on series like 30 Rock and Life. NBC told their customers audience (their customers are the companies buying airtime to show commercials), that they have given up on high production value. That they have given up on quality. That they are fine with being number four in the ratings and that the infomercials now start at 10pm eastern with the long-chinned guy.
That they have given up on their audience. Or maybe the audience wanting intelligent programming.
And that sickens me to no end.
Photo Credit: NBC