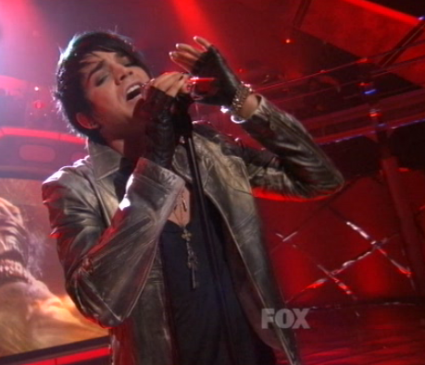 Paula may have seen similarities last night to Led Zeppelin (Wha…? OK, I guess I kind of see it), but to me, Adam Lambert is the new Freddie Mercury. Whether or not you enjoy him ( I do!), you've got to admit that he stands out from the crowd, much in the same way as Mercury did. He's got a theatrical flair to his performances, his voice has a crazy range and no matter what he sings, he makes it his own.
There's not a soul on this planet who can deny the theatrical component to Freddie Mercury's performances with Queen. Heck, even his compositions lend themselves to a Broadway musical — "Bohemian Rhapsody," anyone? In fact, I'm kind of waiting for this. If they can make one with ABBA songs, what are they waiting for? Um, OK, I just looked it up and they did it (We Will Rock You) … guess it must have sucked because I'd never heard of it.
Now, can't you see Adam Lambert coming up with the likes of that? Oh yeah.
Even Adam's voice reminds me of Freddie's. They both have a range that I'm not sure is really supposed to be humanly possible. There's something about the tone of those high notes that is otherworldly, in a good way; doesn't break your crystal, but stops the earth from turning, if for just a moment. There's no way Adam doesn't know what he's got there, and he'll use that in every performance, just because he can.
Another thing about Adam that reminds me of Freddie Mercury is that, no matter what he is singing, he makes it his own. You could be living in a third world country, never having been blessed with the knowledge of Queen's music. Then, someone plays you "Somebody to to Love," and follows it with "We Will Rock You" and you're going to get that it's the same artist.
I think Adam will be like that too. If you don't think Adam will be able to sing any genre, think again. He tackled country last night (country!) for crying out loud! So the judges thought Adam's performance was a bit strange last night (so did I), but c'mon, even as a fan of Mercury, you'd be honest in saying that he was a bit strange as well. That's not always a bad thing.
Don't forget, that was Freddie Mercury making "You're My Best Friend" his own, right alongside "Flash." Can't get too much different than that, but there's no question that both are Mercury at his finest.
So this post turned out to be a bit of a tribute to Freddie Mercury (can you blame me?), but I think you get my point. If Adam Lambert plays his cards right, he can translate his strengths into something amazing. Whether or not he'll live on in the hearts of millions through his amazing gift, like Mercury, remains to be seen.
What do you think? Do you see the similarities between Adam Lambert and Freddie Mercury?
Photo Credit: FOX