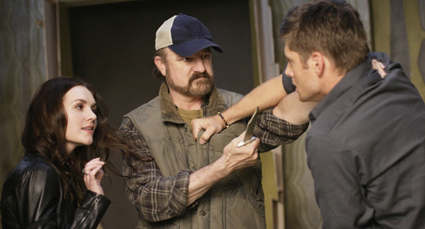 Look at that. Supernatural is back, and Kripke and the team are not messing around. This was easily the most anticipated premiere of the new season for me, so I had some pretty lofty expectations. And it was even better than I'd hoped. It's the payoff for the big gamble that the writers took when they headed down this path. Angels? Lucifer? Armageddon? It really could have gone sideways. But wow … it didn't. The stage is now set for an epic battle to play itself out over the course of season five. I fear this episode has ruined the next few weeks of premieres for me. Can any other show actually measure up to this?
The big deal is, of course, the coming war. Angels, demons, Sam and Dean…. It's complicated. But we'll get to all of that as we get a little more of the season under our belts. For me, the real meat of this episode was in what we saw with the family relationships. First, with Bobby and Sam. Did you get suckered in? I did. Totally bought his little speech to Sam. "You're sorry you started Armageddon? This kind of thing don't get forgiven, boy. If by some miracle we pull this off, I want you to lose my number."
Now, I didn't think it was really curtains for the Bobby and Sam relationship, but I did believe he could say those things. Perhaps it's all the things we've learned about Bobby over the years, or maybe it's just Jim Beaver's acting (he's awesome). I assumed it was a break that would later be settled as the family came back together. So his change, and the appearance of Meg (Rachel Miner) were a complete surprise. Fun stuff.
The bigger family issue — and by issue I mean ISSUE — was still to come. Sam and Dean are united in their goal, but the events of last season are still having repercussions. In an episode that was filled with great scenes, the highlight for me was Dean laying it all out there. "I tried. I really tried. But I just can't keep pretending that everything's all right. Because it's not, and it's never going to be. You chose a demon over your own brother." Damn. Never going to be? Do you buy that? Color me optimistic, but I still see a reunion in the Winchester boys' future. Even if it is looking to be a rather bumpy ride getting there.
Other great bits from the premiere:
Photo Credit: CW