Psych presents the annoying Shawn Spencer
On 'Psych,' Shawn and Gus get involved with a think tank. Along the way, Shawn gets an air horn, many pop references are uttered, and the duo realize they have been had.
- Season 4, Episode 14 - "Think Tank"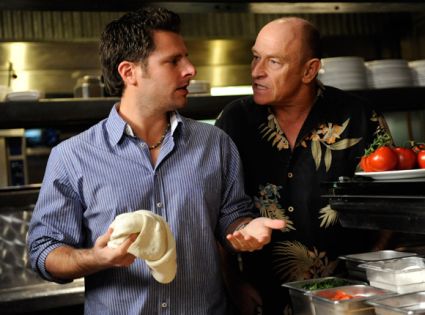 On an average episode of Psych Shawn Spencer is a charming pain in the ass. Not so annoying for someone to punch him in the face, but sassy enough to receive dirty looks or rolling eyes from everyone (okay, maybe just Detective Lassiter). From the viewing audience come smirks and groans since we all know it's just a ruse.
This week was different. Instead of being a minor p.i.t.a., Shawn was incredibly annoying. Michael Scott from The Office annoying. Someone so annoying that I actually had to turn my head away from the screen one time because it was starting to get embarrassing. And that has never happened before! Which goes to show you how ticked off I was at Spencer.
After four years, we all know that Shawn is not an idiot. Lazy? Absolutely! The man likes to cut corners more corners than Congress to get to the quickest answer and, as we saw at the beginning of the episode, this doesn't work well for him. But stupid? He has Henry as a father and Cybill Shepherd as a mother. If the smarts haven't rubbed off on him I'd be shocked.
Photo Credit: USA Network
This Post Contains Multiple Pages: 1
2