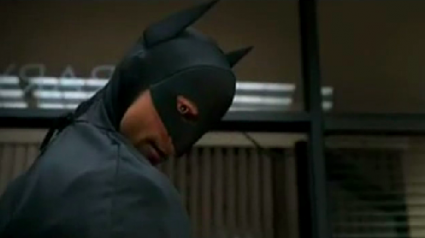 NBC announced some uncharacteristically good news yesterday: Community, The Office and 30 Rock have all been renewed for another season (along with the already-announced renewal for Parks & Recreation). I was most excited about the news for Community, because it really has gotten better with each episode, and I'm thrilled to see it into another season.
The news of Community's pickup got me thinking: was there a point when Community really excelled and brought it from an it's OK-funny show to an OMG-this-is-hilarious show? Within about three seconds of asking Deb that very question, she answered it for me: "Introduction to Statistics." Or, as it will be forever remembered, the Batman episode.
I'm totally into the Halloween season, so this episode hit me on a high note already with its Halloween theme. Abed as Batman, though, was where this episode truly outshined those before it. The Dark Knight has been spoofed plenty of times before, mostly due to that absurdly raspy voice of Christian Bale's in the movie. This episode simply took all of those spoofs to the next level, and where the show officially Blew the Hatch.
Here's a long scene of what was probably the best part of the episode:
When did Community Blow the Hatch for you? Or has it yet to do anything for you yet? If so, at least there's now a whole new season for them to grab you.
Photo Credit: NBC