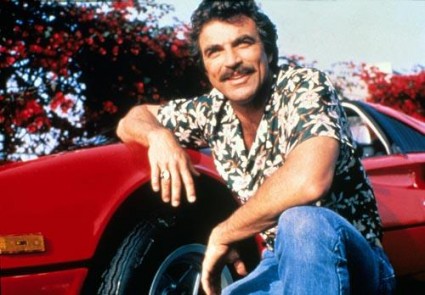 It's true I have a bit of an obsession with Magnum, P.I. And why not? When it originally aired, I was young enough that Tom Selleck and his short shorts became one of my first official crushes (that Shawn Cassidy with his new-fangled long hair was so yesterday), yet I was also old enough to recognize a great show when I saw it. I loved the relationship between the friends, the banter between Magnum and Higgins, the doberman chases and the cases of the week … and the theme song.
The driving beat added some urgency, the strings lightened it up and it all combined together to set the perfect mood for what Magnum, P.I. was about. Much like the Indiana Jones theme song (incidentally, because of Magnum, P.I., Selleck was unable to play Indiana Jones and the role instead went to Harrison Ford), my heart skips a beat when I hear it … then it starts to beat faster.
That Mike Post — is there any show he didn't compose for in the '80s? With the help of Pete Carpenter, I think they've got them all covered, and with style; I love that team.
I surveyed the CliqueClack writing staff to gather their fond memories of the Magnum, P.I. theme song into a post. I tell ya, those young uns are worthless when it comes to spreading the '80s love. I can't even count on my husband to offer something. I don't know what he was doing with his time in the early '80s, but he — gasp — didn't even watch Magnum, P.I. Not normal, right? If you're not yet convinced, he didn't watch Cheers either. Feel free to berate him in the comments. [I had better things to do than watch TV then…. Er, did I just say that? -K]
Thank goodness for Brett, who's old enough and cool enough to love the Magnum, P.I. theme song so much that he made it his ringtone. That's what I'm talking about.
What about you? Any fond — or otherwise — feelings for the Magnum, P.I. theme song? If you're too young to remember it, take a listen:
Photo Credit: CBS