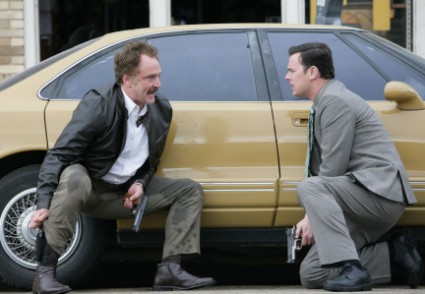 Suspend all disbelief, if you will, and enter a land where nearly everyone with firearms has one in each hand. They don't fire just one shot, mind you — they pound them out like their life depends on it. Wait a minute, it usually does. If they are standing still while firing, it is a rare sight to behold; usually they are flying through the air at an obscene angle, muscles tensed.
Did I just describe a cool action show? Yep. Are you getting flashbacks to your favorite '70s cop show? Yep, that too. The Good Guys even comes complete with a leather jacket, pocket flask and stylin' mustache, just in case you didn't get the '70s (and I think '80s) references (the press kit came with some of those, as a matter of fact).
That's Bradley Whitford of West Wing fame I just described — I nearly didn't recognize him in his role as Dan Stark, but it works and he's wonderful. He and Colin Hanks, straight man Jack Bailey — who I predict will slowly start drinking the Dan Stark KoolAid and bend the rules — play off each other well.
I never really watched Starsky and Hutch, but I'm betting there's a bit of that show mixed in with Simon and Simon (the way the brothers played off of each other, and the 'stache), a bit of Matt Nix's Burn Notice (because he's the creator of this one too) influence and even a little bit Psych (the Gus and Shawn vibe).
The bad guys are delightfully dim-witted and outrageously funny. I won't give away one of my favorite bad-guy moments of the pilot, but suffice it to say that the world's second-best assassin is classic.
The nicest surprise of the pilot was realizing that Jenny Wade can act. No, really. When I saw the description of her role, the "quick-witted former girlfriend (of Hanks' character)," I laughed long and heartily. If you've ever seen one of the infamous Jenny Wade YouTube videos, then you'll know that quick-witted is not the first description that comes to mind.  But gosh darn it — she pulls it off, and well. I didn't once think of the scatterbrained Jenny, who bemoaned the fate of Reaper on video, nor did I think of the sexy demon she played on Reaper. The girl's got some talent, or at least multiple personalities. And we're not just saying that because she banned us from following her on Twitter.
The Good Guys is exactly what I want from a TV show when I'm feeling like Jenny Wade's first personality — when I don't want to think. That happens often at the end of a long day and to just be entertained is a pure pleasure.
Photo Credit: Bill Matlock/FOX