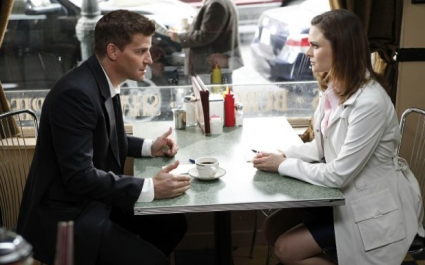 Don't get me wrong, I'm a big fan of Hart Hanson. I think he's done a brilliant job of creating a set of characters that live and interact in what is probably my least favorite type of television show, a procedural. The team at the Jeffersonian, despite all of the sabbaticals taken in this episode, has become a family, with Seeley Booth and Temperance Brennan at its head. Where Bones has lost me this season is the continued emphasis on the Brennan/Booth relationship, with no discernible change in what that relationship actually is. Why not allow fan favorite relationships to actually become more than hints, teases, innuendo, and stolen glances?
Ever since David and Maddie on Moonlighting (or before that, but since I've now dated myself, I'm going to own it), showrunners and writing rooms have seemed hesitant to let certain characters grow into more serious relationships with each other. I'm not sure where the line is drawn that it is OK for Angela and Hodgins's relationship, but not Booth and Brennan, who started just about as far apart in the first season. Instead of exploring what a real, mature relationship between our two leads would actually look like, we've been lead down a rabbit trail for at least a season and a half as they try to find their way.
I've got to take time out to address one particular counterargument to my point, because Lord knows that our very own Julia Hass is probably one of the first commenters on this post bringing it up. Despite my feelings about similar goings on in the 100th episode, I think that the decisions made by the characters in the finale make sense. I think Booth is trying to get away from a situation that he has no control over, and, my feeling is that Bones now consciously recognizes her feelings for her partner, but doesn't want to acknowledge what they mean and what type changes that they signify. It is easier to run away (more politely put: take some time to figure things out) than to face those changes. It works organically with the story, and with the characters. However, after watching Bones from day one, I have faith in Mr. Hanson's ability to write a story that puts these two characters together in a way that works organically with the story and the characters as well.
Instead, we're left with yet another obstacle thrown in their path. A year long separation, not just from each other, but from their shared work. If you think this is the type of thing that will accelerate them getting together, well, I think you're in for a disappointment. I have a great deal of respect for the choice to actually skip a year's worth of time when the show returns in the fall, but that's not getting these two crazy kids together any faster for the viewer. I've already read rumors and speculation and casting reports on what will happen next year, and they aren't the type of thing that give me confidence in what I really want to see.
So, the eventual question I always come to is: why? The characters are being kept apart for a reason, obviously. The easy answer is that the writers think fans like the cat and mouse game of watching these two get it wrong time and time again. Obviously, some fans like that, maybe a great deal, but that type of ongoing "will they/won't they" works better on a show like House with characters like House and Cuddy, who are at most time antagonists. With our heroes, that conflict doesn't exist. So, my conclusion, disappointingly, is that either Mr. Hanson doesn't think that the show would be as good with the characters together (good writers write good material, so I don't agree there), or that he doesn't trust us as an audience to get what we want.
Frankly, I'm done watching shows that think it is more interesting to leave fans hanging when it comes to their favorite relationships. It works on a show like The West Wing with Josh and Donna because their relationship was never the most prominent thing going on at any given moment (Until, of course, they figured things out). It doesn't work here because other than the cases, the focus of these two's dynamic has been the main focus of the show all season long (and, in a lot of ways, quite some time before that).
Is my position a little whiney? Sure; I'd be lying if I were to deny that. At the end of the day, however, should I continue to spend my time on a television show that creates the potential for this incredible relationship that I, as a fan, get invested in, only to draw things out as long as humanly possible? For me the answer is, at least now, is no. I'm pretty sure I'm finished watching the story of how Booth and Bones get together, I'm ready to watch the story of them being together.
Notes & Quotes
"Did however find 36 waffle irons. No syrup though, so what's the point?" – Hodgins
Leave it to Parker to be all logical on Booth.
I've always liked the way Bones handles Daisy's outbursts.
I love Carline Julian as the constant voice of reason.
"Are you really leaving the Jeffersonian?" – Cam
"Yes. For a year. I can provide you with a list of forensic anthropologists that can do this job." – Brennan
"No, Dr. Brennan, you can provide me with a list of forensic anthropologists." – Cam … Sounds one way in text, but on screen, it probably was one of the sweetest, most sincere moments Cam has ever been a part of, until, well, her final scene in this episode.
"You don't think that this success might make them change their minds." – Sweets
"You know what? You're a nice kid. But today is a nice day for you to grow the hell up." – Caroline
"I've really enjoyed working for you Dr. Brennan." – Cam
"In fact, Dr. Saroyan, I worked for you." – Brennan
"We both know better." – Cam
Photo Credit: FOX