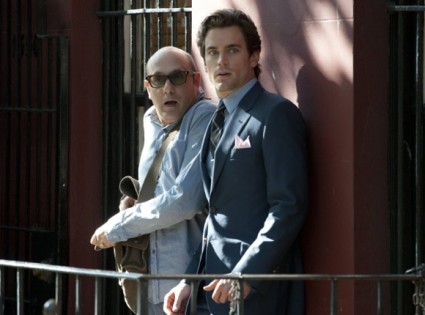 Debbie:
As I was vacationing last week, and happily reading over 700 pages of glorious text in only five days, I thought about what TV shows I may be missing.
Strangely enough, I didn't yearn for a one. I knew my DVR was picking up Burn Notice , The Glades, Leverage and other summer shows I enjoy, so I was content in reading and playing family games.
I'm pretty sure I would have felt differently if it was high TV season and I was missing Supernatural, but I thought long and hard about which current television show I missed the most while I was beaching it.
If I had to pick, it would be a toss-up between White Collar and Psych. Yeah, I love you too, USA Network. I guess I must be longing for the buddy show, because those are the two that I would watch if I wasn't all good-momming it last week. I love the pop culture references and the banter between Shawn and Gus; OK, Shawn and anyone. And the way Neal, Mozzie, Peter and Elizabeth all interact and relate to each other charms me.
So, Bob, I ask you, if you were not watching TV for a week, right now, in the middle of the summer TV doldrums, which show would you be missing most?
Bob:
This is, maybe, the easiest question you could have asked me. It's not even a contest, as there is only one show on these days that even gets me a little excited. I could not live without Mad Men. It doesn't just get me a little excited, I squee in excitement when I sit down to watch an episode, and I giggle with glee when it is over. Seriously, it's one of my favorite shows on television, and this young season has been excellent.
If I were away for a week (yes, please), I would definitely be thinking about Mad Men come Sunday night or Monday morning. In fact, I might even take the hour out of my vacation, find a wi fi source and catch the new episode. Honestly, I can't even think of another candidate right now. This summer has been particularly slow for me when it comes to TV. I've even given up on a few shows that I used to watch (White Collar and Burn Notice) because they just weren't keeping my attention.
More than ever I've embraced my role as a TV snob, and Mad Men hits all the right notes for me. It's deep, the characters are all interesting and real, the plots are subtle, there is a balance of comedy and drama, and the show looks great. It's definitely one of the better looking shows on television, and was made for high definition. You really need to get on that train, Deb.
Debbie:
Ah, if only I had asked you a couple of weeks ago; it would have been a tougher choice!
So what train do I need to get on, the TV Snob Express, the Mad Men Locomotive or the HD Engine? I perhaps ride the caboose of the TV snob express at times, because I admit I'm growing tired of summer TV and am anxious for my favorite fall shows to start. But then again, when two of my favorite fall shows are Supernatural and The Vampire Diaries, it seems I need to jump off that caboose right about now.
I'm on the Mad Men train, I'm just slow about it, I've watched and enjoyed most of season one with Keith as he did his Virgin Diary and I'll catch up on the rest eventually.
The HD Engine? I have it, I watch it but I do not embrace it. I am so sure no one out in TV viewership land needs to see Meredith Grey's cold sore in such vibrant detail. That is all.
Bob:
Yeah, I was mainly talking about the Mad Men train. I know you well enough not to bother to even invite you onto the TV snob train.
There's nothing wrong with a lot of these summer shows, and honestly a lot of them are good, but they just are not doing it for me this year. They are so "light" and "fun." Perfect for a lot of people in the summer, I'm sure, but I was just craving something else for the last few months.
Debbie:
Yeah, quality television can be so depressing…. I'll tell you that my favorite TV snob shows are House and Dexter, just so I can regain my status as a caboose-rider.
Photo Credit: USA Network