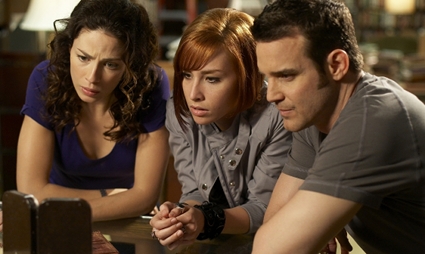 NBC - Not that huge ratings for the Olympic Games is any kind of surprise, but the results for the opening ceremonies (41m/12.4) are still interesting. (Even if you did like me and skipped them so you could watch a bizarre play set in a women's prison that involved a mad-scientist/prison matron doing genetic experiments and bitches getting shanked.) Add in the 8.2 demo on Saturday for the first full day of competition and NBC is ahead of the Beijing numbers on both counts. We can expect more great results to keep piling up as the games move forward. Of course, whether or not any of those eyeballs end up finding their way to the troubled regular season schedule remains to be seen.
Earlier in the week, America's Got Talent (10.43m/2.7 – 8.76m/2.2) continued to lead the way, with Ninja Warrior (4.87m/2), Love In The Wild (4.44m/1.2), the CLIOs (4.75m/1.1), and a Jimmy Fallon Music Special (4.58m/1.6) coming along for the ride. Saving Hope (2.86m/.6) was the only new scripted program.
ABC - The news was solid for the finale of The Bachelorette (8.86m/3.1) and the After The Final Rose special (8.88m/3.1). Unfortunately, the news wasn't nearly as good for the premiere of Bachelor Pad (4.69m/1.5). And the same was true for most of the rest of the ABC week, including The Glass House (2.18m/.8), Trust Us With Your Life (1.92m/.6), NY Med (4.39m/1.1), Final Witness (3.97m/1), and Rookie Blue (5.75m/1.5). Wipeout (6.74m/2.2) was the only other program that was able to crack the 2s.
FOX - There was nothing particularly notable in the usual FOX lineup of Hell's Kitchen (6.46m/2.6 – 6.23m/2.6), MasterChef (6.4m/2.7 – 6.08m/2.5), So You Think You Can Dance (5.12m/1.7), and Take Me Out (2.86m/1.2). SYTYCD is down a bit this summer, which offers a kind of chicken and egg question. Does this show that FOX was right to take away the results night, because the show is slipping? Or is the show slipping because FOX took away the results night? Hmmmmm. I would wager that a SYTYCD results show would be doing much better than Take Me Out.
CBS - Three runs of Big Brother (5.37m/2 – 5.77m/2 – 6m/2.2) accounted for the whole week.
CABLE - Things aren't great over at SYFY. Last week brought premieres for Warehouse 13 (2.14m/.8) and Alphas (1.75m/.6). Both were below where they started their previous seasons. That does stil make Warehouse 13 one of the stronger properties the channel has, but it's clear that SYFY is in need of another hit. Ya know, or some new way for people to get excited about not actually finding ghosts.
Basic

Longmire (4.54m/.9)
Falling Skies (3.45m/1.2)
The Glades (3.18m/.8)
Army Wives (2.92m/.9)
Leverage (2.63m/.7)
Drop Dead Diva (2.13m/.6)
The Closer (5.84m/1)
Perception (4.54m/.8)
Teen Wolf (1.65m/.6)
Bunheads (1.58m/.6)
Secret Life Of The American Teen (1.52m/.7)
Rizzoli & Isles (5.59m/1.2)
Covert Affairs (3.74m/1)
White Collar (3m/.9)
Franklin & Bash (2.54m/.7)
Pretty Little Liars (2.43m/1)

Jane By Design (1.41m/.6)
Royal Pains (3.92m/1)
Dallas (3.25m/.7)
Necessary Roughness (2.76m/.7)
Burn Notice (4.86m/1.4)
Suits (3.89m/1.2)
Workaholics (1.54m/.9)
Melissa & Joey (1.25m/.6)
Futurama (1.19m/.6)
The Exes (.92m/.3)
Sullivan & Son (2.48m/.9)
Anger Management (2.41m/1)
Awkward (1.79m/.8)
Wilfred (1.28m/.6)
Louie (.82m/.4)
Project Runway (2.03m/.7)

Premium

True Blood (4.46m/2.6)
The Newsroom (1.95m/.9)
Weeds (.57m/.3)
Episodes (.38m/.2)
Photo Credit: Syfy