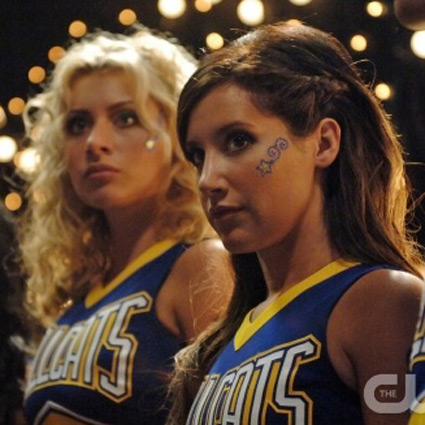 Because it reminded me of my freshman year — when I had a gymnast for a roommate, a cheerleader for an RA, and friends who intensely watched ESPN's spring cheerleader finals — Hellcats appealed to me. My RA, with the heart of AU (gold), opened my eyes to the unreality of the one-dimensional stereotype. Allegedly, our college required cheerleaders to escort incoming male athletes around campus. Additionally, her team had difficulty getting funding for even the smallest item. I hoped Hellcats would give a peek into college athletics with a hint of parody. Although it tried, I don't believe it did that.
Hellcats is essentially the first half of Bring it On where the rebellious dark angel joins the seemingly shallow Marie Antoinettes and they both learn about the other. Overall, the show appeared off acting wise, writing wise, and directing wise. It had promise in parts, but when the acting seemed slightly on, the writing and directing appeared off and vice versa. I wonder if the director could've done more to encourage their talent. Even though I liked the show's visual arrangement, sometimes I felt s/he just focused more on the actors' placement in the scene.
The Grouchy Stuff
So, my basic observations are below.
Marti, a 90s girl in a 21st century body. Why is Marti rocking grunge? I get that she's an anti-establishment slacker, but is plaid the only signifier of teenage rebellion? Also, wearing cargo pants while doing backflips? Really? We get it. She damns the man. Now give her some spandex.
Adult Eye candy. Gail O' Grady (NYPD:Blue) looks gorgeous and D.B. Woodside (Buffy, Grey's Anatomy) is smoking. They're also the reasons I feel the writing or directing is off. I've never cringed at their acting until now. I loved Sharon Leal, the cheerleading coach, in Boston Public. But, here, her character seems off.
Saved By The Bell: The College Years. Sometimes, I feel like TV writers attended college with Zack and Slater when they apply high school stereotypes to college characters. Who cancels scholarships mid-school year, even for unions? Yea, she's poor. Yea, it's costly. But, she didn't consider filing a FAFSA for a semester? Also, mini persnickety point. Why do TV characters state they're studying law, when it's pre-law for undergrads?
Finally, if you're giving us college kids, could they act their age? The mean girl cheerleader seemed a bit overdone. I might've preferred if she started out as Marti's friend, but eventually turned away due to jealousy.
The actresses' need to work harder. Ashley Tisdale plays her character's warmth well, but I think the writers gave Savannah slightly more depth and intelligence than Tisdale portrays. Alyson Michalka does the sarcasm well but not the emotional vulnerability.
The dancing. I know Marti's dance moves are supposed to look street but, to me, her freestyle appeared awkward and stiff (despite her chest pops and cheerleader faces). I find it hard to believe none of the cheerleaders ever incorporated hip hop in their 'textbook' moves, considering seemingly 60%  of the routines shown on ESPN's college nationals back in the day did so. Seriously. They aren't ready for that?
Things that made me go hmmm:
Marti's hard knock life requiring "hope" seemed a bit too saccharine.
Really? All of the cheerleaders exercise at night at the same time while wearing school colors?
I love the public postings, but isn't there such a thing as e-mail nowadays?
I'm sorry, when you have the hotness of D.B.Woodside's toned slayer body, I find it hard to believe any woman would waiver to Jeff Hephner's side. Come on, Jeff's cute, but who didn't want a piece of Principal Wood's wood?  (uh, wooden stake that is)
I like that we actually have another show in a part of the country outside the extreme east/west coast. But, why is Gail O' Grady's character the only one with an accent, considering that most of the characters are either locals or long-term residents?
Sometimes the dialogue hampers them. Coach: "It's win or go home" Um, if you win, you still have to go home.
I know I should suspend disbelief, but wouldn't having cheer squads whip up improvisational gymnastic team dance routines potentially lead to injuries? I can buy it for singing, just not with aerodynamic flinging bodies.
In a reversal of TV stereotypes, the two rebels are blonde, not brunette….
The Good Stuff
I saw a couple smart writing bits. After Marti and Savannah face off, they show a moment of self-awareness. Savannah: "Everyone's staring" – Marti: "We should leave quietly"
The use of color. The set/costume designer placed a lot of color on the actors and in the background, which works well.
The staging and choreography are nice….
I liked the end when images of Ruth Bader Ginsberg and other former cheerleaders, now political/journalistic celebs, flashed by.
The actors are incredibly pretty and well chiseled
It's produced by Smallville's Tom Welling, although I didn't notice (and possibly overlooked) his producer credit on IMDb.
In a seemingly cunning (or surface) move, Marti, the lead, learns to cheer by watching Bring it On. (But, really? She couldn't find cheerleader finals on YouTube? )
While I doubt D.B. Woodside and Gail O' Grady huddle in their trailers reminding themselves of better scripts, Hellcats has a unique dilemma. It's taking on a topic typically reserved to the high school genre, but has located itself in the college plane, allowing for more adult situations. However, if it continues to locate 18-22 year olds in the 14-18 realm (pulling a reverse of Gossip Girl), I don't know why they didn't just go with high schoolers. Plus, although they tried to overcome the bitchy cheerleader type with the Savannah character, the Alison character keeps it going. I'm more interested in their nationals trials and funding fights.
Final Thoughts
I've noticed most pilot scripts/pilots/first eps I've reviewed so far, save the one show that won't air in the fall, I either felt ambiguous towards or felt they needed work. I won't lie. I like the show's warmth and will probably watch it a couple more times before finally turning it off, but as with Nikita this is a show that has a lot of wrinkles to iron straight.
What do you guys think? Was I too hard or do you feel the show's warmth will overcome all? Sound off!
Photo Credit: CW