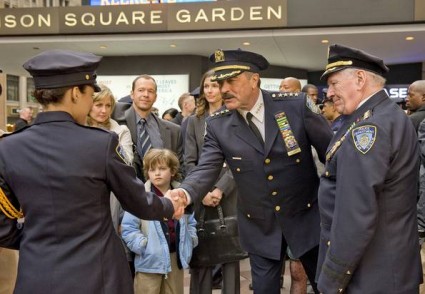 Once I realized that Blue Bloods was a new drama starring Tom Selleck, I was anxious to check out the pilot and see if I'd be tuning in regularly. Frankly, I wasn't excited about a new cop show, especially a serious drama, but there was a lot I liked about the pilot and I'll definitely be tuning in again.
Tom Selleck and an all-star cast
Did I mention Tom Selleck stars? Yeah, I shamelessly love the guy, from Magnum, P.I. to the Jesse Stone movies and nearly everything in-between. He's so classy and smart and just about everything he aligns himself with reeks of quality. He's surrounded by amazing actors in Blue Bloods too; this is not a one-man show. Donny Wahlberg plays his detective son, Len Cariou shines as the patriarch of this family of cops and Bridget Moynahan is Selleck's D.A. daughter. The acting was completely awe-inspiring.
High production quality
In short, it watches like a movie. The filming and editing is flawless and something about it just feels real. It's a visual pleasure.
Interesting family dynamics
On the surface, the Reagan family seems like a typical New York born-and-bred clan of cops. This could have been so stereotypical, but it wasn't. I'm intrigued by the inner workings of this family, as there's so much under the surface to explore. A dead mom and a brother killed in the line of duty add to the complexity of the family structure and their relationships. There are so many interconnections that are subtle and fascinating.
Tense case of the week
It's not a procedural, honest! But there was a case-of-the-week that was deep and tense and scary and solved in a very clever way — not a Mentalist or Psych kind of clever but a solid, smart police work kind of clever.
Twist that makes it not your run-of-the-mill cop show
This twist — which I will not spoil — was the clincher for me. As well done as everything about this show is, I still wasn't sure I'd tune in again (just not my genre) until the twist happened. There's something more to this show than meets the eye and adds a whole new layer to what is already an onion of a show. I didn't squee; instead, I went "Ooooooo. Now that is cool." I want to follow this one to see where it's going.
One more thing I read recently makes me want to go back for more. Due to creative differences with Tom Selleck (whom I worship — you got that, right?), the showrunner, Ken Sanzel, has left. He saw the show as a procedural, Selleck wanted it to be a character study. I am so glad that Selleck got his way because that flavor is what made the pilot great. It's also what has sucked me in, and I can tell you that if this were a procedural as Sanzel had envisioned, I would not be tuning in again.
Blue Bloods premieres September 24 at 10:00 on CBS. Sure, it's got the Friday death slot, but in this age of DVRs we should probably stop caring, right?
Photo Credit: CBS