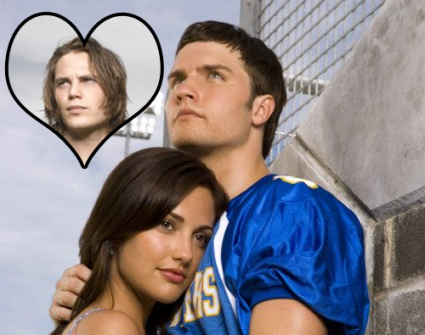 Last week, when the CliqueClack TV staff was throwing laptops at each other quietly discussing the best television trios, we discovered that in the greater realm of trios, that there was an entire subset of triads that deserved their own discussion: Love Triangles. The hardest part of our weekly poll often times is defining the time line (you should have seen half the staff spontaneously combust when Brett made a comment about the Star Trek trio of Kirk, Spock, and McCoy).  Considering though, how much I like to cheat, I've decided that this week we're going with the "within recent memory" as our jumping off point.
For me, that means I'm going back as far back as 90210 (the OG) with Dylan/Brenda/Kelly (Not to be confused with Dylan/Donna/Kelly, which as Brett pointed out to me, was never really a triangle). Personally, it is a close choice between Friday Night Lights' Riggins/Jason Street/Lyla Garrity and Dawson's Creek Dawson/Pacey/Joey, but longevity lives out, and my eventual vote goes for the Dawson. Or, technically the Pacey.
But what did my fellow Clackers say?
Michael: Oooooooooooooooooooooooooooooooooooooooooo … Jack, Kate and Sawyer … hands down. The push. The pull. The conflict. The wonder of who would do what. I'm not in for all the mushy-mush that comes with something like a love triangle … but the interplay between Jack, Kate and Sawyer ended up becoming half the fun of Lost. And anyone who dug Lost who tells you otherwise is lying to you….
Ruby: That was kind of a love quadrangle — Jack, Kate, Sawyer, and Juliet.
Micheal: Not in the beginning.… [I, for the record, am with Ruby]
Modwild: This is really hard for me. My first inclination was Buffy/Spike/Angel, but I'm going with Joey/Pacey/Dawson. Joey started out as a girl in love with the boy next door, and completely at odds with the antagonistic bad boy that was Pacey. Pacey's character growth has to be one of the best ever portrayed on television, and when he fell for Joey, he stepped up to prove to her he was the man she really wanted. It was perfect.
Brett: [after correcting my 90210 SNAFU, he takes aim at my suggestion of Starbuck/Anders/Apollo] Wouldn't the presence of Dualla kind of knock BSG off the 'triangle' list?
Ruby: Yeah, I would have considered the BSG triangle to be Starbuck/Apollo/Dualla, because Dee seemed far more upset about Kara and Lee than Anders did. Anders had his own problems to deal with (finding out he's a Cylon for example).
Deb: Part of the problem is that there aren't a lot of love triangles these days, because they are like love gazillionangles. Everyone bed hops, switches partners, etc., so amongst ensemble casts (think Grey's Anatomy and Private Practice) you don't get triangles because they've all slept with each other. It's sad that I can't think of a current one!
Bob: [In an appropriately brotherly smackdown] Isn't there one on Vampire Diaries?
An: I can't remember any love triangles of the past (at the minute), but the love triangle of the present is Vampire Diaries' Elena/Damon/Stefan.
Deb: I did think of VD, but for me it isn't one I'd nominate because it feels so one-sided right now. I don't really think Elena is torn between two lovers … Damon wants her, but does that make a triangle? I guess maybe it does….
Brett: Deb, I bet that if you go cruise the Wincest forums you can find yourself a Sam/Dean/Castiel triangle….
Then again, when can we ever be expected to agree on anything … The bigger question, is what do you think? Check in on the poll, or tell us how we missed an obvious triangle in the comments!
Photo Credit: NBC