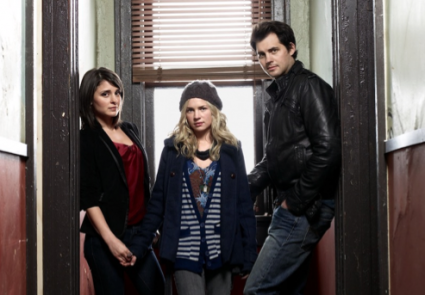 It is the age-old problem: shows you love get canceled before their time, while others — you know, those shows — continue on, season after season, taking up time slots that would be much better used by quality television. Things aren't looking good for Life Unexpected, as most of the other dramas on the CW got pick up orders last week. This morning I caught a tweet from showrunner Liz Tigerlaar , where she shared a blog post about why the sophomore drama on the CW isn't having the success he thinks it deserves. I can't really agree with any of his arguments, though … to me, the real reason the show isn't putting up great ratings, is American TV viewers are just plain stupid.
Let's take a look at the three reasons in the post:
The CW cares more about its female-themed and supernatural/action shows.  I'm not sure that I agree, but who cares? The CW doesn't watch their show, and are thus not represented in the ratings. Sure, high-profile (yet crappy) projects like Melrose Place are given a longer leash, but thirteen episodes is more than enough to establish following (Grey's Anatomy did it in nine episodes one summer).
Life Unexpected's time slot stinks. Don't get fellow Clacker Brett started about the time slot argument (No, really, don't … please). To summarize, though: good shows will succeed no matter what time slot they have. And, truly, he's right. People will follow shows they like, and when faced with a decision between NCIS and LUX, they'll choose the show they like more, not the show that their neighbor is watching.
The CW isn't doing a good enough job promoting Life Unexpected. Well, I can't argue with that point straight out … because I don't think the network is doing a good enough job putting this show in front of viewers (but advertising isn't why it loses viewers week over week). But, to the full point he makes, lets remember that it's the studio, and not the network that determines DVD and iTunes availability. Mojo Films, CBS Television Studios, and Warner Brothers Television are not the CW.
Despite the protestations of die-hard fans, what it comes down to is people need to watch a show for it to be renewed. The networks aren't in the business of keeping under-performing shows on the air just because of the small but fervent fanbases (NBC and Chuck seem to be an outlier at this point). Why not? Because the small fanbase equals less people watching the advertisements, which is what gives the networks the money to pay for the shows.
So, here's my big argument. The reason that good shows don't catch on with a greater amount of people is because people, as a whole, are stupid. (There's a much bigger argument here about how the classic dichotomy of high culture vs popular culture is now being played out in some of the more common-culture mediums like television but I'm just summing it up.) Sure there are exceptions to this rule (FOX's bumbling of the original airing of Firefly), but for the most part, it's about people not watching.
Look at Life Unexpected. Last year, 2.83m people watched the premiere, last week it was 1.66m. Are we really to think that those lost viewers aren't smart enough to find the show on a different night (or, their DVRs can't figure it out either)? Or because the CW isn't advertising the show enough? Or is it more likely that people don't like the show enough to watch it? And that's what it comes down to … Life Unexpected is the best family drama on network television today, and if people don't like it, well, they're just plain stupid.
(If you can't recognize that my calling most American television viewers stupid is a bit tongue-in-cheek, well, then, you're stupid.)
Photo Credit: The CW