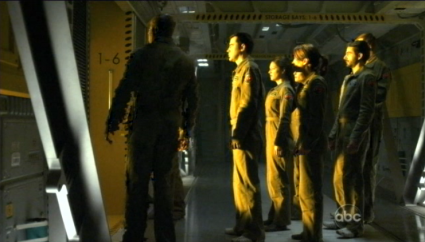 One of the things that kills me anytime a show I love doesn't get picked up for additional seasons — or is flat-out canceled mid-season — is dangling storylines. Being that I'm into sci-fi shows, enduring long story arcs is pretty commonplace. So, when word came that Defying Gravity was not only not getting a second season, but it wouldn't be airing the final handful of episodes in the U.S., it was par for the course. But dammit, I wanted to know what was going to happen next!
Via powerful, mystical, magical items that I won't reveal here, for fear the secret will fall into the wrong hands, I was able to watch the final episodes of the first and only season of Defying Gravity. Ivey's already written about them, the final episode having aired on Canada's CTV and SPACE channels last weekend. Unlike another sci-fi show that was cut short soon — the U.S. version of Life on Mars — Defying Gravity wasn't allowed to wrap up its story. In fact, even if it had the time to prepare for it, there's just no way it could wrap everything up in one season. The season only got better in the latter episodes, which makes the show being gone all the more disappointing.
Still, I had to know how the show was meant to end. If there was truly no hope that the show would get picked up somewhere else, I had to jump at a chance to find out what was going to happen next. So, I went straight to the source and contacted the show's creator, James Parriott, to get a reading from the next book from the Defying Gravity bible. And, lordy, did he read.
First of all, let's get the basics out of the way. Parriott confirmed to me that the actors have all been released and the sets have been destroyed, so the show is "pretty much dead" — no real hope now of seeing the show get the CPR it needs to continue on into another season or a wrap-up movie.
So, why did the show not do better in the first place, if it's as good as I say? As Parriott explained, the show wasn't officially picked up by ABC until a mere three weeks before the first episode aired, virtually giving them no time to market the show properly. By that time, all ad space they needed for the show to get the awareness it needed was spoken for.
Getting back to what I said about a show "bible," Parriott said that in order to sell the show, he had to have the show worked out, and he does indeed have a bible for it. In fact, he has the first three years of the show all worked out, along with how it would ultimately end. Because Parriott has what he said is "a tremendous respect for science fiction and its fans," he didn't want to string viewers along too long without anything significant to reveal, which is why Beta was revealed in episode nine and not somewhere in season two; he wasn't about to leave us with "a big hole in the ground" at the finale. Lost fans know what he's talking about.
Speaking of Lost, here's a fun bit he had to say about the show and how it relates to how he went into putting Defying Gravity together:
"I love the show [Lost], and Damon [Lindelof] and Carlton [Cuse]. I did a lot with Grey's Anatomy during the first couple of years of Grey's, and that first year of Grey's was the first year of Lost, and I did a lot of dinners with ABC buyers with those two guys and Shonda Rhimes from Grey's. Carlton is a really bright and funny guy, and he gets up, and the first question out of the foreign buyers' mouths is 'where's it going to go? Do you know where it's going to go?', and he said 'I haven't a clue.' And then he sits down across from me at the dinner table, and I remember saying 'Damon, come on, that's bullshit, right? I mean, you know where it's going to go.' And he says, 'Jim, I haven't a clue. I'm four episodes out; that's all I know.'
"And I just thought to myself, y'know, that's really dangerous. And then when I got into doing this show, I said I don't want to do that; I don't want to be in that position. First of all, I'd have ulcers if I did that, which would just be crazy, and I wouldn't be able to sleep at night. So I went in pretty much knowing where it was going to go."
I've often said that having the "Grey's Anatomy" tag on this show really hurt it. Sci-fi fans ran for the hills when they saw it was going to be Grey's-in-space, so it never took off. So, I asked Parriott about that.
"First of all, ABC literally bought the show three weeks before it aired. ABC, I think, in their own way, were trying to kill it. They had been planning to buy the show all summer long, so they had us on a hook. But they wouldn't commit, wouldn't commit, wouldn't commit. While they weren't committing, they were cutting trailers and were preparing to launch, but they weren't telling anybody. And then they finally committed three weeks before launch."
Essentially, the only people who saw the promos were the 1.5 million viewers through ABC's summer schedule.
"[Having the Grey's Anatomy tag] probably hurt the show ultimately. But in terms of trying to sell the show, as sort of a quick pitch … for the buyers, it had to be 'look, it's a show in space, but it's not a space show. This is a space show that's going to attract women.' That seemed to be the easiest thing to do. In fact, I don't think we ever really coined the phrase that it's Grey's in space; someone had just said that and we said 'OK.'"
So why wasn't the show pitched instead to Syfy? Couldn't the show have shined there and gotten the attention it needed and deserved? "You know, it could have. But we were always trying to create a network show and not a cable show. So if you go out and just say "we're sci-fi," the networks sort of balk at that. They want to know it's bigger and the potential audience is broader than a sci-fi audience. However, when it became clear that ABC wasn't going to give us a big summer launch and not be promoted as well as we wanted, I was encouraging the studio not to sell it and go to Syfy. And in fact they did go to them, but they did it too late and after we already aired two episodes. I said, 'would you guys buy this if we pulled it from ABC and give it to you for free on rerun and buy us into a second season?' But then you've already aired and you're taking the wind out of Syfy's sails, because they can't promote it as 'their' show. And Mark Stern [Syfy Exec VP of Original Content] was very interested in it, but once it aired on ABC you lose your caché. And you're done. But we could have survived on Syfy and done many seasons.
If it had been an ABC developed show, believe me, we would have been promoted and been put into a better time slot."
Now, let's get into the answers to some of the unanswered questions from the show. First of all, Parriott won't yet reveal to me the ending of the show, as he's still holding onto hopes that something will come out of left field and cause it to be revived again, in one for or another. If, in six months, the show doesn't see the light of day again, then we may get our answer. (UPDATE: Here are the answers.)
Let's go over the characters Parriott and I discussed:
Photo Credit: ABC
This Post Contains Multiple Pages: 1
2