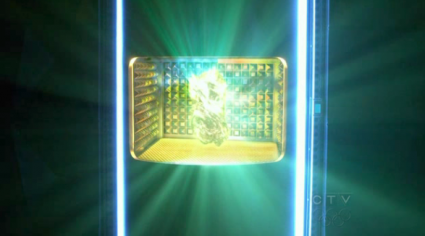 Exactly a year ago tomorrow, I posted many bits of a discussion I had with Defying Gravity's creator James Parriott, where he explained much of how he envisioned the series would have continued, had it endured past its one season run. The show was canceled late in its first and only season, the remaining episodes viewable now via DVD. At that time, Parriott wasn't yet willing to divulge everything about the series. He didn't want to fully explain the ending and so forth, because there was still a teeny, tiny chance the show might be brought back in some form. The actors were all still unattached to projects, for example. So, he told me if nothing became of the series after six months, he'd spill it all to me.
Well, six months came and went, and no word came of how Defying Gravity would have ended. I won't get into why Parriott didn't follow through at the time, as it's off the record. So, six months more of my pestering the hell out of the poor man, I've finally got what we've all been waiting for.
Much of what Parriott told me was already mentioned in my previous post, though he did go into more detail. Below, in Parriott's own words, is what he has revealed as how Defying Gravity would have ended, though do make sure you check out the original post first.
—
The second season would be the flight to Mercury and the landing there on "the terminal" (the line where day and night meets).  This is the one area where you can land on Mercury and neither freeze nor fry. It serves as a metaphor – the in-between place – for what Nadia is experiencing, and it is she who will be making the solo landing and have to choose between day and night to survive.
Nadia, in season two, will be revealed in flashback, to have been a true hermaphrodite.  She carries the internal frustration that she allowed the decision to become female to be made for her. Her hallucination is a vision of herself as she might have been. Mintz will draw this out of her (as a shrink) and become her closest confidant. Eventually, over a season or two, this relationship develops into a full blown romance of uncommon dedication. Why?
Because Nadia, after Mercury, slowly starts changing into the man she could've been. This miracle (of course caused by the objects' ability to affect the astronaut's genes) inspires a kind of faith in Mintz. He moves from cynic to believer (in fact, we come to understand that, in his hatred for the brutality of man, he never intended to return to Earth).
Mintz and Nadia's true love would transcend their sex, and give the writers the platform to discuss what love is (and address gay marriage, etc.)
Zoe will heal. And her love for Donner will bloom (in contrast to the relationship hell going on in the flashbacks to the ISO training). This is darkened, though, by their mutual dream. Is it possible for her to become pregnant? They do body scans to make sure their tubes are still tied.
And Donner begins to dread what they'll find on Mars.
Wass and Paula will continue their shy romance that dances around the subjects of science, religion, and faith. He will help her deal with her rape as a child, as they both search for answers as to what the fractal objects really are. Paula will become convinced that the burning bush that spoke to Moses was, in fact, a fractal object.
In terms of Wass and Jen not having hallucinations: I had a storyline for Wass in the very beginning that revolved around him being an Aspberger's kid and hating being touched. (kind of the opposite of Jen). I dumped that when it became apparent that he and Paula had chemistry and I hadn't come up with a replacement arc. Jen's non-hallucination is Beta screwing with her – making her face her loneliness and outsized need for intimacy.
Jen will be forced to deal with those needs. Rollie won't be available to her – his second-season arc would be to pay for his hit and run and go to jail. The bunny will be discovered — its fur screwing with the ventilation – and be put down. It will devastate Jen. Ted, who is feeling distanced from Eve, will become her lover.
Photo Credit: ABC
This Post Contains Multiple Pages: 1
2