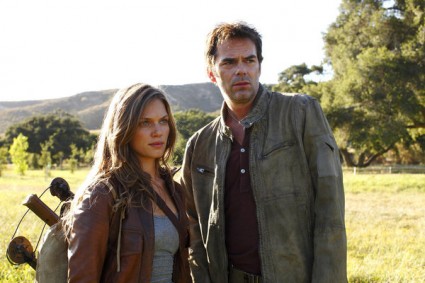 Revolution is one of the most buzzed about new shows coming this fall. Actors Tracy Spiridakos and Billy Burke, as well as, the show's creator Eric Kripke sat down with us at San Diego Comic-Con to discuss the show. Even though the show doesn't premiere until next week, you can watch the pilot online now.
For more on Revolution, check out the Quibbling Siblings' preview and An's preview.
Tracy Spiridakos plays Charlie Matheson. She set out on a search for her uncle Miles after her father was killed and her brother, Danny, was taken by the militia.
Billy Burke plays Miles Matheson, a former marine who hid out in Chicago. He reluctantly agrees to help Charlie find her brother and presumably knows something about why the power went out.
Eric Kripke is the creator of Revolution. He previously created Supernatural and was executive producer for the first five seasons. He provides insight into the "rules" of the show regarding electricity, including what won't work.
Revolution premieres September 17th at 10 pm ET on NBC.
Photo Credit: NBC