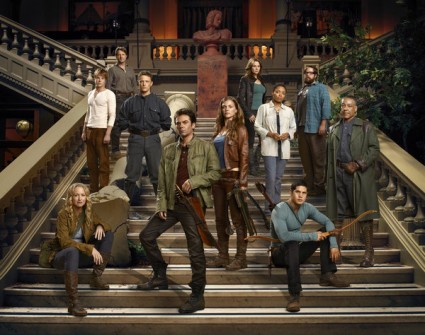 Debbie:
I was really excited for NBC's Revolution, mostly because Eric Kripke is the writer. As the creator and showrunner of Supernatural for its first five seasons, the guy literally did no wrong; he's brilliant and I'd follow him anywhere. However, I think he made the mistake of getting into bed with JJ Abrams; The Revolution pilot has his stink all over it.
Before you jump down my throat, it's not that everything Abrams has done is bad. On the contrary, Alias was probably one of my favorite shows. But he always lets me down. He can't sustain the goodness. The last seasons of his shows always reek of carelessness. The opposite is true of Kripke. Every second of his envisioned five seasons of Supernatural were stellar, all leading up to the perfect end game. I'm hoping they balance each other out nicely. But back to the stink …
Revolution nicely laid the foundations of conspiracy, intrigue, mysterious science fiction / supernatural elements, possibly complex characters that you may or may not be able to trust. It's got a strong cast. It's also got the bumbling equivalent of Hurley, which is not Kripke's style for comic relief, it's Abrams'. There are also enough Lost-like elements (and all of the Lost clones, like Flash Forward and The Event) to leave me wary, afraid that the viewer will be dicked around and the foundation that was so nicely laid will get convoluted and reveal nothing. I guess I just have trust issues with JJ Abrams.
I've got a lot more to say, but how about I give you a chance?
Bob:
It's so hard to judge based on a pilot (not to mention one that could still get tweaked and polished before the fall). I think so much of it depends on what direction the show goes in. I enjoyed the first show. I thought it set up an interesting universe and some decent characters. It looks like there is going to be a nice amount of (well done) action, which can always be fun.
I thought a lot of the cast was engaging. I love Giancarlo Esposito who seems to be popping up everywhere these days, so I was excited to see him, channeling the villain again after his exemplary turn on Breaking Bad. No one stood out as wooden or boring in the cast, which is saying a lot these days.
As you say, so much depends on where the mystery goes. I'm not convinced that the series really needs it. I much prefer character stories to big mysteries, and I feel like a lot of shows that try to copy Lost fail to realize that the characters were the biggest part of that show. For example, take The Walking Dead. The show is mainly focused on the characters and survival in an alternate situation. Revolution has a similar opportunity, but it seems like the writers may fall too much into the trap of "why" instead of "what if." I would much rather watch a show looking at what would happen if power was gone forever, not one focused on WHY power is gone forever.
 Debbie:
I enjoyed it to a point. I agree about the cast: I'm intrigued by Billy Burke's character and I like seeing Tracy Spiridakos (Being Human) and David Lyons (The Cape) again. I think my trust issues with JJ Abrams got in the way and I'm banking on Kripke being the saving grace of Revolution, if in fact it needs saving at all. I wanted to be unabashedly engaged, but I wasn't. I wanted to know where it was going, so I would know if I wanted to watch more episodes, but I don't. I want to know that Abrams isn't going to screw it up, but unfortunately that's unlikely.
To address your point about the "why" versus the "what if," I think I could be on board with either scenario if it's done right. They don't seem to be relying solely on the mystery; they seem to be laying the groundwork for an intricate web of character interactions. It will be interesting to see if this is something Kripke can write well. He's not written for a large, complex cast before but I welcome watching him try.
I'll definitely watch more episodes, at least two more, before I abandon all hope … and even then, I'm not sure that will be quite enough. Will they go for the slow, humorless burn of The Walking Dead? Will it end up having Kripke's signature humor balanced with the darkness of reality? Will it take itself too seriously, like Lost? Too many questions! This is a show to keep an eye on, though, because the cast and Kripke's involvment could mean we're looking at one of the next great pieces of entertainment.
Bob:
I think my expectations are just a little lower than yours. It seems like it has potential to be a really fun adventure series. Beyond that? We'll just have to see.
I wonder about Abrams and how much he is actually involved in any of his shows. I know that by the end of Lost he was watching it on TV with the rest of the audience. Fringe has two show runners who do the heavy lifting. With all the projects that Abrams throws his name on, I'm not sure that he can really do that much on any of them. I wouldn't be too concerned about the Abrams factor.
Debbie:
I guess it just didn't have anything about it that screamed "Kripke" at me, and that's what I was looking for; you would be too if you'd just suck it up and do a Virgin Diary of Supernatural. …Here's the trailer, dear readers, so you can see what all this hullabaloo is about. Let's just say it's a very comprehensive trailer; kind of watches like a 1-minute pilot:
What do you think — are you on board for the Revolution?
Photo Credit: Nino Munoz/NBC