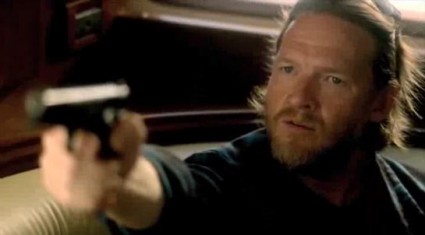 Thank you to my friend, Sebastian, for without his Guest Clack contribution I would never have given Terriers a chance. That would have been a horrible oversight on my part. Despite Dish Network doing their damnedest to stop me (removing FX from the lineup, of all things), once I was in, I was invested.
The only reason I can think that Terriers isn't a hit is because of its name. I admit that I had no idea what the show was about, and the name didn't make me want to find out. Without the aforementioned shout out right here on CliqueClack, I would be as clueless as the myriad of other viewers who missed out on this fantastic program.
Two weeks ago, an episode titled "Sins of the Past" so seamlessly intermixed the past and the present that I was in awe. It was just impressive film making, on any level. The editing, the mingling of how Hank and Britt came to be and how well matched it was with the current story … I cannot express how well it was done.
It all brought us up to the season (fingers & toes crossed!) finale. The underlying mystery on top of which all of the episodes were built came to a head. I really don't want to give away any spoilers, because I want you to go out, find the episodes and watch them. Now. But how to cover a finale without covering the finale?
I'll do that by telling you nothing is as it seems. During the finale, as with so many of the smaller cases throughout the season, it slowly dawns on you that you're figuring things out right along with Hank and Britt. Like a giant puzzle, as the pieces fall into place you realize just how brilliant the writing is on Terriers. Think Damages with scrappy, lovable, incredibly funny characters you can't help but cheer on. Wouldn't that be a show you absolutely adored? That's what you will find in Terriers. Mystery, intrigue, wit, friendship, surprises and more of the same around every corner.
They solved the majority of the arc, but left just a bit open to pick up next season. I thank the writers for giving me enough closure to survive with the actions and choices made this season. The same thanks goes to them for making me want a second season so badly. I hope it's not too late for you to get the same invested enjoyment from Terriers that I did. Trust me with this, you can watch the entire season and be satisfied even if my own wishes for season two don't materialize. It's that good.
Photo Credit: FX Network