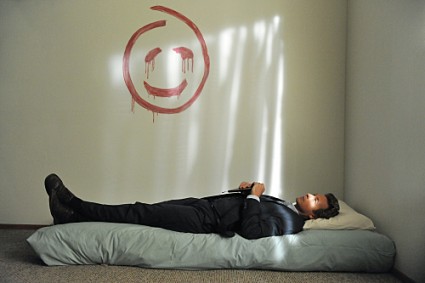 Back a couple of episode reviews ago, we got more action in the Red John story arc of The Mentalist. Most people arriving at that post simply wanted to know what the hell the burned man — Todd Johnson — said on his deathbed to Patrick Jane. The answer was "tiger, tiger," taken from a William Blake poem, one recited to Jane by Red John during last season's finale episode.
One commenter going by the name of "MIKE" came up with a theory that at first seemed crazy and unlikely, especially with the ALL CAPS portion of his comment and the frequent overuse of punctuation(!!!). However, once I did some digging into what he said, it doesn't seem so crazy after all. In fact, he may have stumbled onto something that could potentially be a huge freakin' spoiler to the identity of Red John.
In MIKE's comment, he points out that an alternate form of the name "Patrick" is the name "Pink." Given that a) who the hell would name their son Pink, and b) the only person named Pink I've ever heard of is a female musician, I thought this was bullshit. Since I don't want to call someone out for being crazy without a little research, I did a search for the name Pink and — wouldn't you know it — MIKE is right. Pink is, apparently, an alternate form of the name Patrick. I found more evidence at another source as well.
So, what does that mean? Well, next MIKE goes on to point out that Jane — Patrick's last name — is the feminine equivalent to the name John. Consider for a moment that feminine can be considered more gentle than masculine, and that pink is a more gentle or softer version of the color red.
Pink Jane
Red John
Might just be a neat coincidence, right? Maybe it's just something cool they did, just as they title all of their episodes after the color red? However, if you consider the William Blake poem, and that it has to do with perfect symmetry — the existence of duality — then this could support the theory that Patrick Jane has a dual personality; that Patrick Jane is, in fact, Red John.
At least with last season's finale, the theory of Jane and John being the same person doesn't make sense. How could Red John talk to Patrick Jane as he was tied in his chair? To that I say it could easily be explained away as figment of Jane's mind, and if it were to be revealed that they are the same person, a flashback could illustrate this. The fact that Red John's "disciples" never point the finger at Jane as being Red John could be explained away as him being in disguise all the time or has simply and quite easily altered their minds to think he's someone else. It's not as if Jane doesn't have the capability to do so.
One last thing regarding this theory, before you throw it aside as hogwash. I emailed through my contacts at CBS to get some sort of response on this matter from The Mentalist creator,  Bruno Heller. In that email I asked if this Pink Jane/Red John thing was just a fun play on words of if it was something more significant. What the CBS rep said of the answer back: no comment. Take that for what it's worth.
Photo Credit: CBS