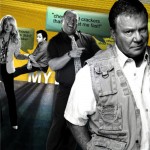 This is supposed to be a comedy … right?
So why was I left with the nagging feeling the entire episode of Bleep My Dad Says was about quirks, qualms and kinks?
I mean, come on! Booger (Revenge Of The Nerds' Curtis Armstrong) was featured in the episode! That has to account for something right there! Right? Right … ?!? Come on! Who's with me … ?!?
Instead, we got Henry's (Jonathan Sadowski) continued "whinery" about his father not contributing to the father and son dynamic he obviously craves … Vince's (Will Sasso) reminiscence of his childhood (and, while seemingly upbeat, it was demonstrably depressing as all get out) … Bonnie's (Nicole Sullivan) continued vacillation and exasperation and baby wishfulness … familial chaos caused by Ed (William Shatner) at a third party over a stupid baseball … and pain, suffering and deep-seeded emotional spurning that's so engrained in Ed, it's no wonder the dude is the way he is.
Cripes! The only stable one on the entire program was Root Beer the dog! *yeesh*
So … in an effort to inject a little levity into "Goodson Goes Deep," I offer two things:
#1: Bleep My Dad Says: Winner of the 2011 People's Choice Favorite New TV Comedy, and;
#2: The video below for your dining and dancing pleasure.
You're welcome. Thank me by noting your hopes and wishes and dreams for this show in the comments below. You'll feel better having done so.
Photo Credit: CBS