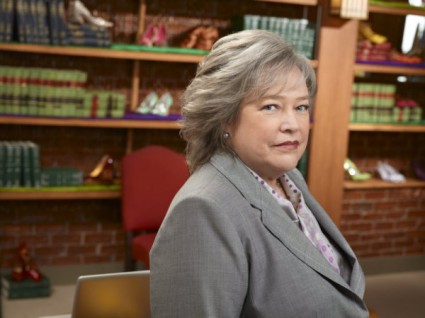 I would watch Kathy Bates in anything. She's undoubtedly one of my favorite actresses. Have you ever had a moment when you're surfing through the channels, and there's a movie on you've seen a thousand times before? You say to yourself, "Oh I love this part. I'll just watch for five minutes." And an hour later you're still there for the ending? For me, that's most likely a Kathy Bates film. From Misery to Fried Green Tomatoes to my all time favorite Delores Claiborne. I just adore her. The way she becomes a character so quickly and believably continues to astound me. And as I said in my excerpt, my sister attended Southern Methodist University acting school with her back in the '70s. She spent time with her in productions and at cast parties, and has several great stories of witnessing her in action. Nope. Not the prettiest girl on the block even then. But definitely the most talented. Who when she heard the praise of her fellow students and teachers about their certainty of her stardom, would never take that for granted, shrug and say a simple "Thank you."
So I was excited to see the pairing of her and legendary producer and writer David E. Kelley on NBC's new offering Harry's Law. What a great pair up, I thought. And after watching the pilot, I'm really pleased.
This first episode establishes Bates' character, Harriet Korn, in transition. At the start of the show, she cares so little about what happens to her anymore at her job, she let's her boss fire her as she's smoking pot. Kathy is always great as a character right in the middle of a moral crisis or major life change. And this show is no different. We see her evolve from being so bored as a patent attorney that she could scream, to a well thought out, witty force to be reckoned with in a criminal courtroom by the end of the hour.
Bates' supporting cast is pretty stellar too, but she's definitely the motivating force behind the whole show. And if you miss Boston Legal, you'll find some solace here. Korn is very reminiscent of Alan Shore (especially in liberal arguments and manner of delivering facts to a jury) and her new law partner Adam (played by Nathan Corddry) is as off the cuff as Denny Crane. Then there's her secretary Jenna (Brittany Snow) who's quirky, but has Harry's number all the way.
So, suffice it to say, what's not to like? And by the way, this is my 100th post for CliqueClack, and I want to thank Debbie, Keith and Michael. As well as all of you for your support! I'm so glad to be here. Cheers!
Photo Credit: NBC