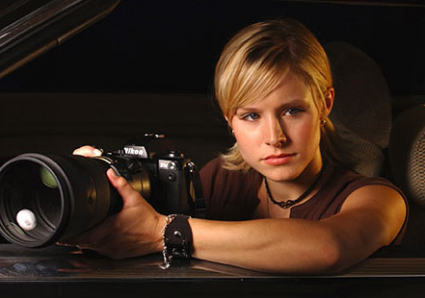 Rachel's back Guest-Clacking for us again, after sharing her thoughts about why it took her 20 years to like Ed O'Neill last time.
I watch a pretty obscene amount of television. It didn't used to be this way. Back in the days before DVR, I had to actually decide which ones were worthy. Or use the VCR (!) to tape one in another room. Now that instant streaming, zippy Netflix deliveries, and recordable TV is a part of our lives, I've had the opportunity to watch a bunch of shows — in their entirety — that I didn't catch when they first aired. Here are five of the best.
The Sopranos
I avoided this masterpiece at first because I wasn't into watching guys with nicknames kill each other. I soon realized that it was about much more than that, but by then it was too late! I didn't have HBO on demand, so I simply couldn't catch up. And then, the amount of seasons got out of control. I didn't want to be watching season two when season five was on. I didn't want to even engage in the Tony-talk until I completely knew what I was talking about. I figured it would be less confusing if I didn't have any knowledge of the show. So I waited until the very end and had a very exciting and traumatizing couple of months.
Veronica Mars
I feel ashamed for not giving this a shot back when it was on TV. I just thought that it was a dumb girly crime show. Not so! Kristen Bell delivers the best performance of her career in this series. She still hasn't topped it (although being the voice of Gossip Girl comes close … nah, not really). I love the cinematography, the mature storylines, the father-daughter bonding, and the computer geekdom.
Sports Night
And I don't even like sports! That's OK, because it's not really too sports-heavy. And it's a show within a show, which is fun (The Larry Sanders Show is another great example of this.) We get to see Peter Krause before he was Nate Fisher or Adam Braverman, Felicity Huffman before she was a Desperate Housewife, and Josh Charles before In Treatment or The Good Wife. Plus there's that brainy guy (Joshua Malina) that reminds me of Dwight from The Office, only much more tolerable.
Freaks and Geeks
I think this bypassed my radar given its short running time. Also, I was in college and I'm pretty sure Freaks and Geeks wasn't on the "currently playing in the multi-purpose room" list. My husband, being a freak and an even bigger geek, loved this show. Judd Apatow produced this comedic-actor-packed powerhouse, with such personalities as James Franco, Seth Rogen, Jason Segel, and Busy Philipps (yes, I watched her in Dawson's Creek, OK? I admit that). Plus, there was that guy with lots of unruly facial hair from Knocked Up (Martin Starr). This is one of those shows, along with My So-Called Life, that broke my heart for not continuing.
Gilmore Girls
I'm probably outing my husband as an even bigger weirdo than myself, being that he has been obsessed with this show since its arrival in 2000. And he has all seven seasons of DVDs to prove it (although he insists that the last season doesn't reach the standard of the previous six as a result of Amy Sherman-Palladino's exit). I spent an entire summer watching nothing else. We love the show so much that we named our daughter Lorelei. (OK, that wasn't the only reason we named her that.)
Because watching shows back-to-back adds to the experience, I sometimes deliberately hold off on watching them at their original airtime just so I can have a marathon later. (This is especially useful for cliffhangers like Lost or 24.) In this way, I have begun to treat TV like a movie … an extended, endlessly joyful, constantly evolving movie.
Well, until the last episode of the last season, that is.
Photo Credit: The CW