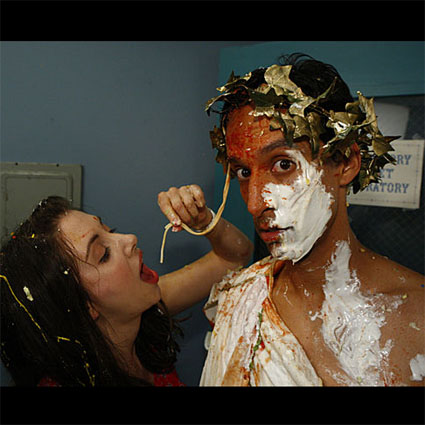 Did you see last night's episode on Community? If you didn't, stop reading this article and pop over to Hulu for "Political Science." NBC hosted a roundtable conference call with Alison Brie (Annie), AKA the candidate, and Danny Pudi (Abed), AKA utterly awesome, last week. And, can I say, I'd totally vote for them on a combined ballot.
Danny and Alison have a great, natural chemistry with each other which manifested through their banter. Seriously, every single interviewer commented on their mutual awesomeness. EVERY. SINGLE. ONE. They completed each other's sentences and called each other out on their responses. We need an Annie and Abed in the morning. Nay. We demand it. Anyone calling themselves a "two piece Voltron" deserves their own show. I loved Danny's confronting Alison for voting for her character after Starburns and Alison's calling him out on his vaguely ambiguous statements.  As you can tell, I had an awesome time. Even if I hadn't gotten to speak to the dynamic duo (which I did), I would have gone away happy.
Conference calls are interesting items. There's a magical fairy who introduces the room and oversees the flow of the questions. After you press a button on your phone, a few seconds or minutes later (if you're lucky), you're announced and you're directly connected with the actors. Before and after that, you listen to the other interviewers ask questions. For some conference calls, people tend to limit themselves to 1-2 questions, but this time each interviewer tended to have mini-conversations. I didn't realize why until I asked the final questions. Danny and Alison are incredibly charismatic. I know I shouldn't seem shocked, but they're intelligent and engaged. They pull you into a conversation and they don't focus on just "answering the question." So, you find yourself having a mini-chat with the "cool cats."
I learned a couple things from what the other writers asked:
Gillian always gets the pop culture references in the script (and, after her, there's always google).
Alison and Abed have a game called "I'm better, I'm good." It's essentially a verbal form of rock, paper, scissors.
Danny and Alison had a mini-fight over who they would vote for, but eventually they agreed: Starburns.
Danny and Alison would call an Abed spin off show, Secrets. If you watched this week's episode (or ANY of the episodes), you'll know what that means.
Am I the only one who viewed Alison and Danny referencing themselves as a two piece Voltron as vaguely sexual?
For Troy and Abed in the morning, they would love to have Howard Stern or Chevy Chase as himself.
One of the writers asked Alison and Danny to tweet to each other in song lyrics.
Our beloved Senor Chang can't stop laughing at himself.
Donald has great improvisational lines.
According to Alison, the making of each show is its own blooper reel.
Alison got a little too into the Dungeons and Dragons re-enactment with the well-endowed.
Alison believes Jeff and Annie still have a tiny flame for each other, which she believes is what catalyzed "Political Science" where you see their bumping heads fueling the tension.
Danny looks like a female news anchor and was always attracted to them.
Another awesome thing about participating in a conference call is when the writers asking the questions are fans of the show. It adds to the positive energy flow. I was able to ask the two questions about the show's development and their responses made me want to pat myself on the back. It's kind of awesome when you get through and are actually able to connect with the actors. When you listen to another writer talk and ask questions it's great, but directly talking to them you really get a feel for their energy and antics.
So to learn about Danny's sophomore year, if we'll get an Annie and Abed in the morning (on Community or some other show), and they what they thought of my questions, click on!
Photo Credit: NBC
This Post Contains Multiple Pages: 1
2