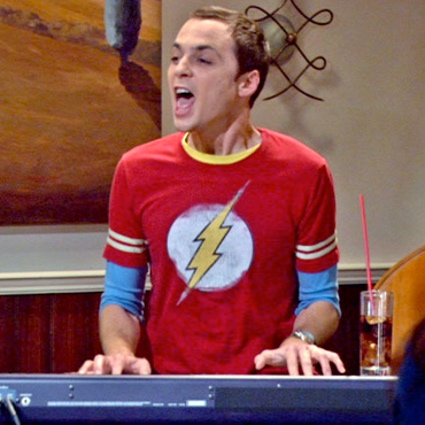 I mentioned in another post that since the second week of January, I have been one of my father's primary caretakers. He is dying of melanoma and also receiving hospice care. My brother and I take turns staying with my dad for three weeks at a stretch, with short visits home to our families in between. So, my job right now is: Sit in my father's house. You'd think that I'd be caught up on every single show on television.
Nope.
For the first few weeks, my brain just didn't function right, so I didn't really watch any television except what my father had on (lots of NCIS and Burn Notice marathons on USA and tons of ESPN). As the weeks progressed, I lost touch with House, Big Love, Community, The Big Bang Theory, Fringe, The Office, White Collar, and The Closer. During a recent trip home, I caught up on some, but not all, of these shows. And I am not really interested in getting too caught up. I mean, maybe eventually, but it's funny how facing an insanely depressing situation changes your taste in television.
The shows I have not managed to return to are: House (I have seen two episodes since before Christmas — that is not a return), White Collar (I saw one episode), The Office, The Big Bang Theory, and Community (I've seen one episode). So, why have I taken the time to catch up with Big Love, Fringe, and The Closer? Instead of catching up on beloved old shows, why have I found solace in the darkness of Dexter and Breaking Bad, and relief from the new comedy Raising Hope?
As much as I still like the idea of Community, sometimes watching it feels like a chore for me. It's not effortless and seamless like Raising Hope. On paper, I love some of the ideas Community has had for episodes, but they don't always translate into shows I want to sit through as well. There isn't much character development, so sometimes I pretty much feel like if I have heard a description of the episode, I've already seen it.
I feel the exact same way about The Big Bang Theory. Loved it at first. Now, I'm tired of it, and I think adding Mayim Bialik was a mistake. She is unwatchable.
Truthfully, I gave up on The Office last year. I just stopped being able to sit through it. I find it either boring or grating. Sometimes both. Jim and Pam became reduced to two pairs of eye rolling and arched eyebrows. Michael just became a caricature that was painful to watch. Maybe it's better now. Don't care.
House. Oh, House. I have had a mostly love relationship with this show for seven years, but when I miss episodes now, it isn't must-see catching up with me. And I am the person who insists on going back and rewinding in the middle of the show that I am watching with the captions on so I can hear/read every word, get every nuance. I'm a completist. So, not needing to go back and see ALL of House doesn't bode very well for my return to that series, but who knows?
White Collar is like cotton candy. You enjoy it when it's fresh on your tongue, but you don't necessarily go out of your way to buy it. It's more like you happen upon it and remember it and you like it. At least if you are me. So, I saw the episode that shows how the group all met each other, but I haven't been very interested in the plot this season.
Have I made a big mistake in abandoning any of these shows? Are there any that I should really go back and catch up on?
Photo Credit: CBS/The Big Bang Theory