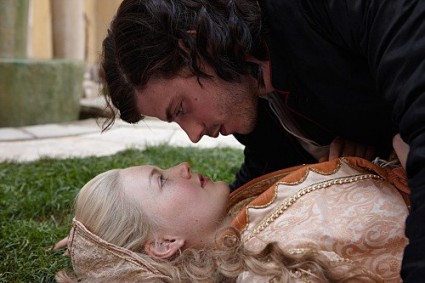 Showtime's The Borgias, touted as a crime family drama set in Renaissance Italy, features Jeremy Irons in the role of Rodrigo Borgia (Alexander VI), the most corrupt pope ever to buy his way into the big pointy hat.
Fans of The Tudors can revel in luscious costumes and sets, unending political intrigue, and, of course, gore and sensuality. (Sex scenes that end in blood-soaked bedsheets? Yep.) You'll also notice some familiar faces in the pilot—in addition to Irons (his voice still reminds me of Scar), look for Joanne Whalley as Rodrigo's long-time mistress Vanozza, and Derek Jacobi and Colm Feore as his rivals, Cardinals Orsini and Revore.
Forget the old fogeys for a minute — while we do spend a great deal of time in the halls of the Vatican, as the cardinals bicker, bribe, and blackmail each other, this wouldn't be a Showtime series without some pretty young faces. Rodrigo's son Cesare, played by Francois Arnaud, may be the most intriguing character in a cast of intriguing characters. Cesare is forced by his father to join the Church, even though he would rather be a soldier; his brother Juan the Dumbass, a far inferior swordsman, is handed Cesare's dream job of commanding the papal armies. (Don't be surprised if Juan meets an untimely end.) Despite the collar, Cesare readily does his father's dirty work, whether that involves buying votes, poisoning outspoken cardinals, or hiring assassins to murder chambermaids who put their eyes to the wrong keyhole.
Speaking of peeping through keyholes, the premiere opens with Cesare's little sister Lucrezia spying on her big brother having sex with some woman. What makes this doubly eww is that, afterwards, the brother and sister giggle about it and roll around in the grass together (see picture above). If you smell incest, that's probably because the historical Lucrezia was thought to have been pregnant with her brother's child at one point. Don't ask me if it's true; I know much less about the Borgias than I do about the Tudors.
One thing I do know: If you've come to The Borgias looking for the same guilty pleasures you got from The Tudors, you are in for a good time. Wronged mistresses! Assassins named Micheletto! Flagellations galore! And Jeremy Freakin' Irons.
Are you watching?
Photo Credit: Showtime