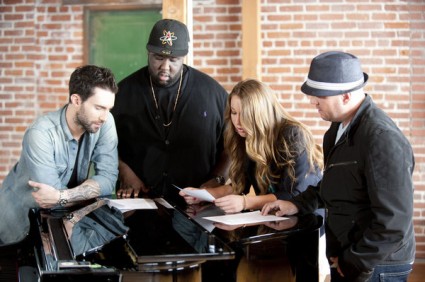 I can't hide when I've got a series record set up on my DVR. I have several of the performances downloaded to my iPad. And Tim Mahoney and Casey Weston's version of "Leather and Lace" has been stuck in my head since Tuesday. I'm sucked in, completely.
This is coming from the person who would rather get a hole in the head than watch American Idol. Or Survivor. Or almost any other reality series. So I have to ask myself: what gives? What is wrong with me?
The answer is maddeningly simple. It's the same reason I love my scripted shows: the personalities.
When the show started, I wasn't a fan of any of the four coaches, but I knew all of them and had heard a fair amount of their music, so I had more of an interest in their opinions. After actually tuning in, I was pleasantly surprised by how much fun they were. I was laughing out loud a few times throughout the blind auditions, to say nothing of how awesome it was to see the expressions on their faces as they listened to these new artists, sight unseen. Many of them weren't at all what the coaches expected to see when they turned around. Speaking of Tim Mahoney, I think my biggest laughs of the auditions came from Maroon 5 frontman Adam Levine telling Tim that he'd thought Tim would be a girl.
These coaches are a riot. Half the fun of The Voice is their interaction. Who'd have thought that Blake Shelton and Cee Lo Green would ever be in the same room together, let alone have a hilarious banter between them? Not me, at least. Since Blake's quip that Cee Lo will turn up "dressed like Batman" someday, I want to see if he ever does. Christina Aguilera isn't a favorite of mine, but I can watch her here.
And then we get to Adam … whom I have quickly developed a harmless crush on. Yes, he's cute, but just cute doesn't do it for me. He also has one of the most unique singing voices I've ever heard in music; having picked up my first Maroon 5 album this week, I have quickly come to appreciate their distinctive sound. It's addictive. I would listen to Adam Levine read the menu board at a drive-thru. As it is, I just sit back and enjoy his snappy wit. (If you're not following him on Twitter, you're missing out.) He never fails to put a smile on my face.
Liking the coaches, as well as listening to their music, means that I care what they're trying to do, which is half the battle. The other half is that I also like these contestants; not just that they're good singers, but I'm interested in their stories. If you read their blogs on NBC.com or their Twitter feeds, these guys and gals could easily be you, me or our friends, and they also have a genuine love for one another. I hope that husband and wife duo Elenowen eventually get out of her parents' basement. Tyler Robinson was just a fun guy to watch perform. And when Adam set Tim and Casey to battle each other, I didn't know what to think! On one hand, I thought they'd sound fantastic together, and they did … but on the other, I didn't want either of them to be eliminated. I'm still disappointed that Tim is gone.
Tim's a perfect example of the one thing that pushes The Voice over the top for me. I really loved the idea of blind auditions. It spoke to me because I know what it's like to be unfairly judged on one's appearance and how people have treated me because of it. Knowing that Adam was looking for a female artist when Tim performed, if Adam had seen Tim, would he have still selected him? I certainly hope so but I don't know for sure. The element of surprise certainly didn't hurt Tim's chances. One could say the same for Nakia on Team Cee Lo. How many people would have dismissed him for not looking like they think a star should? Avoiding that kind of thing gives me just that little extra respect for this show.
Thanks to The Voice, I've discovered some great new artists I'd never have heard of otherwise. I actually care who wins because I like these people. I enjoy some wonderful banter between judges I actually give a damn about. And I've been singing Maroon 5's "Makes Me Wonder" all weekend. Yep, I'm in love.
Is it Tuesday yet?
Photo Credit: NBC