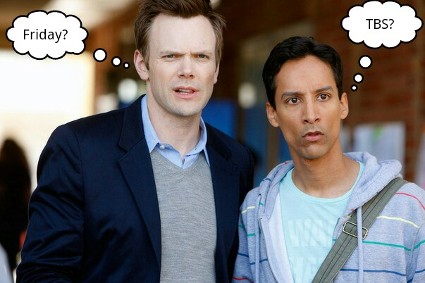 NBC - This is officially upfront week, where the fates of all the television shows are revealed. NBC is the first network to go official with their plans for the fall, and there are a few surprises, considering the ratings. Given the dismal state of comedy on the network, you might not have expected Community (2.99m/1.4), 30 Rock (2.92m/1.5), Parks & Rec (3.42m/1.7), The Office (4.49m/2.3), Up All Night, and Whitney to all see another season. But that's just what happened. All six shows will be back in the fall, with Community and Whitney moving to Friday.
Other surprise renewals include SVU (5.9m/1.8), Fashion Star (4.3m/1.3), and Rock Center (3.3m/.7). Smash (5.72m/1.8) and Grimm (4.46m/1.2) had already been given renewals, and Off Their Rockers (5.2m/1.5) has done well enough (considering) that it's not a surprise. The Voice (10.74m/3.8) was a given, but the big news is that the next season will kick off in the fall. Unfortunately for fans of Awake (2.51m/.9), that one somehow didn't measure up in the non-sensical NBC renewal matrix.
Looking at that list, the outlook is not good for NBC next season. They just renewed a dozen shows that nobody watches and we can expect nobody to watch them again in the fall. The new Kripke/Abrams series, Revolution, better be a break out hit, or it's going to be more The Voice and nothing else. Unless you think that Howie Mandel's White Elephant or Jenny McCarthy's Surprise are hits in waiting…
CBS - Further illustrating the point of just how bad things are at NBC, we have the newly canceled Rob. The show averaged 10.95m/3.3 for CBS, but that wasn't good enough. Yes, it would make it the number one scripted show on NBC, but CBS has an embarassment of ratings riches when compared to NBC. In fact, with one exception, everything on CBS from Monday to Thursday would be the #1 scripted show on NBC. That is just crazy. The lone show out is Unforgettable (10.84m/2), which would be second to The Office in the demo, and has been canceled. Also canceled, and not a surprise, is NYC 22 (6.87m/1.2). If there is a surprise in the CBS announcements, it's that CSI NY (9.03m/1.1) and CSI (10.73m/2.4) will return, while CSI Miami is being canceled. I thought Horation would eventually bury Mac. The only show still in limbo is Rules Of Engagement (8.77m/2.7). The rest of the CBS shows from last week have all been renewed for the fall.
Amazing Race (9.4m/2.7)
2 Broke Girls (8.99m/3.3)
Two And A Half Men (11.43m/3.8)
Mike & Molly (10.14m/3.1)
Hawaii Five-O (9.39m/2.3)
NCIS (18.2m/3.1)
NCIS LA (14.56m/3)

Survivor (9.97m/2.8)
Criminal Minds (11.62m/2.9)
Big Bang Theory (13.72m/4.4)
Person Of Interest (12.96m/2.6)
The Mentalist (12.62m/2.4)
Undercover Boss (5.75m/1.1)
Blue Bloods (10.56m/1.3)
ABC - There was a surprise comedy renewal over at ABC as well, but not of the iffy NBC variety. Cougar Town (4.63m/1.5) continued to struggle, but was renewed anyway… by TBS. That seems like it could be a good fit. Other comedy renewals from the ABC schedule include Last Man Standing (6.62m/1.7), The Middle (6.6m/1.9), Suburgatory (5.94m/2.1), Modern Family (10.58m/4.4), Don't Trust The B (5.69m/2.3), and Happy Endings.
On the drama side, the biggest surprise was another season of Body Of Proof. The show struggled most of the year but picked up at the end when Dancing With The Stars (16.37m/2.7 – 13.71m/2.4) came back. It's joined by Once Upon A Time (8.95m/3), Castle (12.36m/2.4), Private Practice (5.77m/1.4), Grey's Anatomy (9.82m/3.5), and Scandal (6.43m/1.9). Not returning in the fall are Desperate Housewives (9.22m/2.7), GCB (5.56m/1.8), and Missing (6.37m/1.1).
FOX - There were only two shows on FOX last week that won't be returning in the fall. We already knew House (6.09m/2.1) was coming to an end this season, and now The Finder (4.16m/1.1) has officially been canceled. The rest of the gang will all be back in the fall.
Simpsons (4.84m/2.2)
Bob's Burgers (3.72m/1.8)
Family Guy (5.64m/2.7)
American Dad (4.82m/2.3)
Bones (7.02m/1.9)

Glee (6.67m/2.7)
New Girl (5.61m/2.8)
American Idol (16.46m/4.5 – 15.62m/4)
Touch (6.84m/1.9)
Fringe (3.16m/1)
CW - There were a lot of renewals handed down for CW as well, including Gossip Girl (.83m/.4), Hart Of Dixie (1.37m/.6), 90210 (1.15m/.6), Next Top Model (1.06m/.4), Vampire Diaries (2.53m/1.2), Nikita (1.38m/.4), and Supernatural (1.68m/.7). If you've done the math correctly, you'll notice that Secret Circle (1.28m/.6) and Ringer are not on that list. And yes, you'll probably have to go to Canadia to catch any more LA Complex (.54m/.2).
CABLE - There was good news for Disney as Good Luck Charlie (4.26m/.9) kicked off season three on an up note. In less exciting cable premiere news, Discovery debuted The Devils Ride (1.52m/.8). The premiere lost more than a million of the Deadliest Catch (2.69m/1.2) viewers. And after seeing it, I don't expect it to go up from here. Syfy also had a premiere with Total Blackout (1.4m/.6).
Basic

Army Wives (3.07m/.9)
The Client List (2.51m/.9)
Mad Men (2.3m/.7)
The Killing (1.34m/.3)
Secret Life of the American Teen (1.51m/.7)
Eureka (1.45m/.6)

Make It Or Break It (1.09m/.4)
Lost Girl (.95m/.4)
The Game (1.94m/1.1)
Let's Stay Together (1.52m/.8)
Hot In Cleveland (1.21m/.3)
Happily Divorced (.98m/.2)

Premium

Game Of Thrones (3.89m/2)
Veep (.95m/.6)
Girls (.74m/.4)
The Borgias (.57m/.2)
Nurse Jackie (.54m/.2)
The Big C (.48m/.2)
Photo Credit: NBC