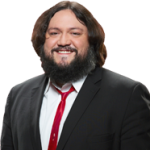 Going into this week — the second of the Battle Rounds portion of the competition on The Voice — I'll state right up front that I'm unashamedly rooting for Nakia to shank his competition.
And, sure enough, he did.
Cee Lo's team was up first with his choices of Tje Austin (he of the magnificent 'fro) and the aforementioned Nakia. And, cripes, in just the coaching session alone you could feel the music exuding from the big guy. Based on this, it appeared he would swallow Tje whole. But it was a bit of a different story come Battle Round time. Tje was smooth, but too much so for my taste … too subdued. His opponent extended his voice powerfully during their duet of "Closer," and, while it wasn't the slam dunk I thought it would be, Nakia still won out in the end.
"Ain't No Mountain High Enough" was the interesting song choice Blake Shelton picked for Jared Blake and Elenowen to duet. Yes … a "trio" of singers duet-ing. Jared made the interesting observation that there might be "a disadvantage" going up against the married Elenowen, and even coach Coach Blake aped the possibility of unfairness.  And then, as if this lopsided circumstance wasn't enough of an uphill battle, Jared comes out in full bad ass regalia, complete with bandanna and leather wrist bands.  But this is The Voice, not what your clothing bent tells about you. The performances spoke for themselves: Nicole was lost between the two guys, practically non-existent. A bit surprisingly, Jared and his raspy-ness appeared the stronger of the three and took it, Elenowen walking away hat-in-hand.
Now, it's a personal peeve of mine to wear a baseball cap (if you're going to wear one at all) cocked stupidly askew. Straighten it out and wear it properly unless you're a baseball catcher on the field. There is no other excuse in my book. So when Angela Wolff and Javier Colon came next to do "Stand By Me"  I was biased against Javier. But I stood by Mr. Colon despite his crooked topper, having stated in a previous post that Angela wouldn't make it through the Battle Rounds … and that statement held true. (By the way, not only was this particular duet cavity-causing sickly sweet, I couldn't have been more bored with it if I'd tried.)
Lastly, we're treated to Beverly McClellan and Justin Grennan belting out Coach Christina's choice of The Who's classic "Baba O'Reilly." Cocky Bev threw down the gauntlet, telling Justin he was "in trouble" after the song reveal. And Justin — not having ever heard it before (really!?) — may have gotten thrown off track with that bit of psychological prodding. But the dude made a show of it. There was a bit too much posing on his part, but I have to give the guy an "A" for effort in trying to hold his own. His lack of familiarity with the song showed, however, and was his ultimate undoing. But any way you look at it, this was one strange duet.
Much better Battle Round this week, NBC. Thanks for the match-ups being worth their salt at the late hour.
Oh. And … Carson Daly? For a "music industry insider," he's still pointless.
Photo Credit: NBC