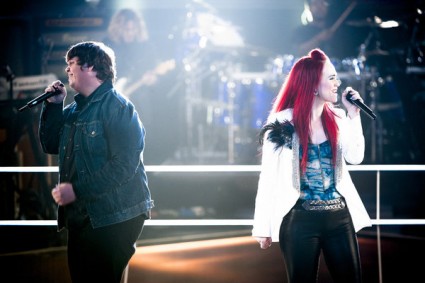 We've come to the end of the battle rounds on The Voice, and all I can say is: that was a pretty neat way to go out.
First, I have to represent: my team, Team Adam, batted leadoff things off this week as four-chair turnaround Jeff Jenkins squared off against Casey Desmond to the tune of Elton John's "Don't Let The Sun Go Down On Me," which I know well as I've butchered it during karaoke more than once. (In that respect, I actually learned from the pointers Adam Levine was giving Jeff and Casey.) Given that Jeff was one of only two artists to get all four coaches to spin their chairs, I expected that he'd win, but I did not expect how close this battle would be. He and Casey were fantastic, both together and apart, and while Jeff rightfully won, I came away with a brand new respect for Casey. Tim Mahoney and Casey Weston's version of "Leather and Lace" is still my favorite battle, but this is a strong second, getting the edge over last week's rendition of "Creep" because I have such fond memories of trying not to screw it up.
Team Blake was down to Xenia and Sara Oromchi, who served up "I'll Stand By You" by The Pretenders. Poor sixteen-year-old Xenia cried while on the Coaches' Couch (which led advisor Reba McEntire to hit Blake Shelton). I have to admit that I have been pulling for Xenia, because not only do I identify with her — at her age, I was already finishing my first year of college — but she's also from my hometown. Having said that, once the pair took the stage, I could hear a little extra something in Sara's voice that I didn't in Xenia's; maybe it was the extra two years Sara had on her, but Sara's vocals sounded just a little more rich to me. Both ladies, though, had tremendous nerves that hampered their performances, and Adam admitted that he didn't think the song was right for either of them. The combination of both those things made this battle underwhelming to me. I don't know if I'd declare either lady a winner, but Xenia moved on.
Lily Elise and Cherie Oakley were the last women standing for Team Christina, and were handed "Since U Been Gone" by Kelly Clarkson. To me, this battle was an example of how some songs don't necessarily work as well when turned into duets; it didn't flow as well as some other selections. While we found out Cherie had a hand in writing a No. 1 hit for Reba, Christina surprised me when she selected Lily to advance. I felt like Cherie had the stronger performance, showing off the experience from all those years of being a backup singer, whereas Lily was more raw and a little less comfortable. We'll agree to disagree on this one. Still, I think Cherie's performances on the show will help get her out into a spotlight of her own someday.
Team Cee Lo was left with Emily Valentine and Curtis Grimes. Emily openly confessed to a crush on Curtis, which made singing "Need You Now" by Lady Antebellum just a smidge awkward. (Not to mention that the show played that for all it was worth, though I can't blame the producers when she was so willing to talk about it.)  I didn't care for Emily's blind audition for the same reason I didn't care for her here — she seems like she's trying too hard to impress, whether it's hitting a high note or going on a vocal run. This was particularly obvious as she was singing with Curtis, who was fairly restrained and not at all demonstrative. I was glad to see Curtis win — and not at all surprised that he and Emily were kissing at the end. After all the hype I'd have been surprised if they didn't do something.
Honestly, I wasn't at all interested in their feelings for one another, so my highlight of the night came purely from the coaches' reactions to said liplock, from Adam's wide-eyed "what just happened" face to Cee Lo's jaw dropping, and Blake quipping that the pair were asked to "duet, not do it" (complete with rimshot from the house drummer). Even the normally deadpan Carson Daly got a one-liner in when he said, "One of you is going home — not alone, I guess." There was some great riffing, even if the moment itself seemed a little too convenient. In particular, it should surprise no one that I loved Adam's self-deprecation when he told Curtis that he was jealous of the other man's baritone, being that "I sound a little like a girl when I sing." I'm always a fan of people who are unafraid to laugh at themselves. (Not to mention that whatever he thinks of himself, he hits high notes this girl can't even come close to, so more power to him.)
I also had a chance to watch Bravo's Platinum Hit this week, and while they're geared toward two different groups in the music business, it only reaffirmed to me why I love The Voice. Within fifteen minutes of the former, I was already fed up with the contestants, be it the guy comparing himself to Michael Jackson or the cocky chick who might be able to write a song, but certainly shouldn't ever be allowed to sing one as she was horribly shrill. They seemed much more full of themselves than anyone on The Voice, and were a lot less compelling. In contrast, The Voice is full of people that I've enjoyed getting to know. Their love of music has given me one of my own, and I'm excited to see what they do next.
Not everyone is as happy as I am, however. Entertainment Weekly's Ken Tucker wrote about The Voice this week, and didn't have many kind words to say; in fact, my eyebrow raised at how blatantly negative his review was. Before this week's show, I sat down with my partner in crime … er, CC's resident Voice reviewer, Michael Noble, to discuss the article in question.
Michael: One of the things I pride myself on — especially where reality shows such as American Idol and The Voice are concerned — is my ability to step back from my personal quirks and kinks and be objective. I can take the blinders off and step outside my personal beliefs and view something third party. But I do not believe this is something Ken Tucker can do by evidence of his recent Entertainment Weekly article.
Now … I didn't delve into Mr. Tucker's piece looking for anything sinister, but it was rather highfalutin' and smacked of the "bombast-tactical." Read the article for yourself: He's practically handwritten a note stating "I have an agenda against The Voice" and scribbled his John Hancock underneath. And what I want to know is this: That any way to head into a critique, Ken? Because last time I checked a critique was "an evaluation," something you head into in order to gain knowledge and, in the end, come out of with an opinion. My belief is Tucker's piece doesn't lend to this in the least. Not only do I think he's got it in for the show, but I have an inkling he's hugely jealous he doesn't have a spinning chair like those the coaches sit in. Just my opinion, y'unnerstan' … but an opinion based on his "more-than-a-handful of slights" aimed at the show, it's props and the coaches.
Brittany: I couldn't agree more with you, Michael. (Also, I want one of those chairs!) A lot of what Tucker said wasn't warranted, and was even a bit rude; saying at the piece's end that the coaches are "downsized titans" was incredibly dismissive. Confining myself to the coach I'm most familiar with, Adam has three Grammy wins and five other nominations — there's nothing small about his career to me. These are people who are still out there making popular music today. It's not like they're hard up for opportunities. But he seems to believe they are, or at least aren't good enough for him to take seriously.
It only got worse when he went on to talk about Christina trying to "rehab her image" and if Cee Lo thought the show would "enhance his cred." It's clear he thinks they're just there to make themselves look good, which isn't the case at all. Having done interviews with several of the contestants, I've heard them speak at length about how heavily the coaches are involved with the artists, and how much they've learned from that experience. It burns me to see a quartet of stars who really are putting in an effort be talked about so poorly, especially since my cynical heart says there are a lot who wouldn't be so awesome.
I have a few other issues, but my main problem with Tucker's piece is that it's not really a review; like you said, he had his mind made up from the start. All he offers is open negativity and a conspiracy theory about "collusion between the coaches and the producers." (Really?) Now, I can understand some reservations; I'll admit that I almost didn't watch The Voice because of my dislike of reality TV in general. But I put that aside and went into the show with an open mind, and I discovered something I really like. I wish Tucker could've given The Voice that same chance. He didn't have to love the show, but did he really need to rain on everyone else's parade?
Okay, rant over — back to the show!
My one concern as we open up the voting to America is the danger of The Voice turning into a popularity contest. An issue was raised with American Idol this year as to whether or not young women were voting for the cute boys and not necessarily the most talented performers. I think there's a point there; anyone who's been involved in any sort of grade-school voting can attest that it's usually the popular kids that win. I don't want to see The Voice turn out like that, but I also don't know any way to prevent it. I suppose we'll see once the live rounds air and the votes start coming in. Regardless, it's not going to destroy my enthusiasm for the show; whoever wins, I've already discovered a handful of artists whose music I never would have heard otherwise, and I think that's its own victory.
Stay tuned, Voice fans. Next time we chat, I'll be talking to you from the stage — as I head to Los Angeles for the live shows. Especially since we're promised another performance from the coaches (is anyone else disappointed that we can't get their amazing version of "Crazy" on iTunes?), this is going to be fun…
Photo Credit: NBC