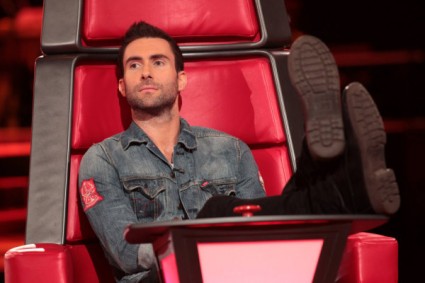 I love you, Adam Levine. In an innocuous, platonic way, I adore you. There's no shortage of reasons why you give me butterflies in my stomach like a high school girl.
Let's get the shallow one out of the way first: damn, you're handsome. You are near exactly my type. In fact, you're screwing up my type. I have never, ever found tattoos or beards attractive, and yet you've sported both and I don't mind at all. Nor do I care that your wardrobe seems to largely consist of jeans and T-shirts. You've got your own style, and it works for you. Plus, now I can wear my denim jacket again.
But you are so, so much more than just a pretty face. What made me fall for you was how easily you could make me laugh. Every time I see you on my TV, or read something you've posted on Twitter, I can't help but smile. You're a very funny boy, Adam, funnier than some of the comedians I used to share the stage with in my stand-up days. You've said so many quotable things (remember Top Chef Masters, when you jokingly told James Oseland you'd stab him with your fork for disagreeing with you about the steak?). You bring regular laughter into my life, and the joy that comes with it. It's exactly what I felt when I grew up with my childhood best friend, and what I haven't felt since I buried him almost a decade ago. Thanks to you, I have that lightness back, and I'm glad for it.
I love that your ego hasn't gone to your head — that you're on The Voice really helping other musicians, and not because you're whoring yourself out for attention. Underneath the fame and fortune, you honestly remind me of that best friend I miss every day. You smile, and it makes me smile.
I also admire your talent. Here I am, having been kicked out of my grade school band, and there you are, singing vocals while also knowing  your way around the guitar, the drums and keys. You're a real musician, writing your own wonderfully literate songs. I'm sure you'd drive the tour bus if they'd let you. It's seeing you performing, how much fun you're having and how much you love what you do, that's inspired me to pick up a guitar – one of the ones you helped design — and try this music thing one more time. That's an accomplishment, because I may have left the band telling them where they could shove my drumsticks.
You made me love music, when I've only ever sort of liked it. I've been listening to nothing but Maroon 5 every day for the last month. That's over 700 hours and six versions of "She Will Be Loved," but I don't care. I recognize and appreciate things in your band's music that I never have before. First and foremost is your amazing voice. I can only daydream about getting to perform something with you, like that duet from Starlight Express I've wanted to do since I was a kid, that I'm convinced you'd get right. Sappy, but true.
Now, here's the big one. It's gonna get a bit weird for a second before it gets normal again. (See what I did there?) My life would suck without you. Really. You see, this past year's been a big old mess of surgeries, hospital visits, physical therapy, and emotional distress. I'm a tough cookie, but almost 400 days of that has really broken me down. The one thing that's helped me get through is listening to you sing. You have a way of making me feel so much better. And when every day brings something else that I have to overcome, I can't tell you how much that means.
Was that a little dour? Well, then let me throw some trivial facts out there: I also like you because you and I love the same Elton John song, and you taught me how to suck less the next time I sing it at karaoke night. And I think I could beat you at bowling. (I guess I should mention now that I don't mind being fodder for your snarky wit, either.)
I know I'm not unique in having a soft spot for you; I know you have a legion of admiring fangirls who love to squeal when Carson Daly says your name. I'm not going to go quite that far (no matter what Michael says). I'd just like to shake your hand someday, so I can say thank you.
Until then: I love you, Adam Levine. And that's all I have to say about that.
Photo Credit: NBC