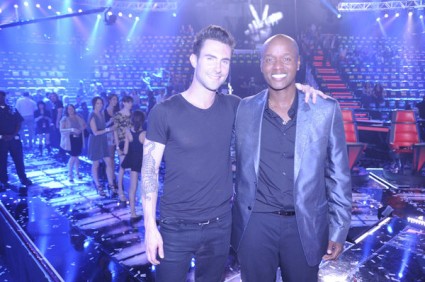 This first phenomenal season of NBC's The Voice is over. (Except, not exactly.) I don't know what I'm going to do with my Tuesdays now, but I do know that the last week of the first season was a great way to end it. And I'm only half saying that because my team won.
Tuesday's final performance show was pretty amazing, though there were a few missteps along the way. I loved that the coaches performed duets with their artists; it signified that they were no longer coach and student, but equals. I could see how much fun Dia Frampton and Blake Shelton were having as they performed Tom Petty's "I Won't Back Down" together in matching suits that reminded me of the Blues Brothers. And it should surprise no one that I was serenaded by Adam Levine and Javier Colon's take on Michael Jackson's "Man In The Mirror," with their voices blending so well together in a no-frills, just-music rendition.
I had no particular problem with Christina Aguilera and Beverly McClellan's coffeehouse take on "Beautiful," except to note that it's the second time that Christina has selected a song she's already performed (the first being "Lady Marmalade" for her team's group number). That seemed a bit boring if not slightly egotistical. It didn't help that throughout the performance show, Christina looked and sounded sedated unless Beverly was involved. I'm not sure what was up with her, but I actually found myself missing the rambling Christina after that.
The one duet that went totally over my head was Vicci Martinez and Cee Lo Green's version of "Love Is A Battlefield." Cee Lo put on another production, this one coming out like the love child of Mad Max and West Side Story, complete with dancers and Vicci in what she described as a Xena outfit. I just stared in disbelief while laughter echoed in the press room; one person called it "hysterical." Not the kind of attention they were hoping for, I'm sure. Then again, I take issue with any performance where the other elements distract from the music. I cared even less for the arrival of Pitbull and Ne-Yo, who needed glow sticks, light effects, and a group of dancers who got way too close to the coaches. It was all overblown and looked even more out of place considering that The Voice has never been about showy elements.
My favorite part had to be the artists performing material that had been written specifically for them. (Did anyone else think the phrase "original songs" meant we might see them armed with tracks they'd actually composed themselves?) Each of the pieces did represent the artists very well. Javier wrung every last drop of soul out of "Stitch by Stitch." Vicci brought back that growly desperation for "Afraid to Sleep." Dia returned to the piano for the soft but lyrically brilliant number "Inventing Shadows." (Although, as Adam noted, I found myself distracted by the shadow boxes behind her. I immediately thought about the "mimes" comment Blake had made a few weeks earlier, so I was amused that Christina brought it back up.) Beverly rocked out one more time for "Lovesick," which led Carson Daly to admit that he thought she might light the piano on fire. How cool would that have been to see? Never mind legality, it'd look cool, wouldn't it?
Really, there was no bad choice amongst this group. I certainly had my favorite (Team Adam forever!) but I remember thinking that I wouldn't be upset no matter who won. In fact, there are a few artists who didn't even make it to the finals that I wouldn't have minded either (Tim Mahoney, I'm looking at you). You have to give credit to the casting directors for pulling together such a talented group.
It all came down to Wednesday, where I got to watch things unfold from the luxury of the hosted viewing party. I sampled a few foods that were probably more expensive than I want to think about, and one that I choked on. But at least there were brownies. With raspberries on top, no less. That cheered me up a bit, because I was actually kind of depressed that this whole crazy thing was coming to an end. Over ten weeks, I've really immersed myself in the experience — which was why both Adam and I were clutching at our seats, and particularly evident when Javier was announced as the winner. I forgot that I was in public, and I threw my arms in the air and then let out a yell of exultation that startled my assistant. My bad.
But could you blame me? My finalist, and by extension my team, and my coach, and by far extension me, had just won. Time to celebrate.
There was one person I wanted to celebrate with, and he found me first. I thought my mission was complete when Adam and I met last week. I did not expect him to walk by me on the red carpet, catch my eye, hug me, and then come over to chat with me again despite having a whole line of other people waiting for him. "Did you sneak out early again?" he teased me, which caused me to crack up at the thought that he may have actually noticed me nearly falling down the stairs last Tuesday. After he checked up on my health, he pulled me into another hug. Unsurprisingly, that cracked me and after we parted company, I spent the next few minutes wiping my eyes while somebody else on the line remarked about how cute that was. I think I was just trying to compute the odds of meeting my hero not once, but twice.
That's where this week really got me, I think. The story isn't over, for everyone on the show and certainly not for me. I'll be celebrating my 26th birthday going to the Maroon 5 concert next month. Less than a week later, I've got an excellent seat to the opening night of the Voice concert tour. In August, I'm auditioning for season two. And whether or not I make it onto the show, I'll be on the Warner lot in January 2012, where I'll be back alongside Adam (and there's no place else I'd rather be).
At the same time, it is still an ending — even if it's just the end of a chapter as opposed to the end of the entire novel. I know that I've been very blessed these last few weeks. I've changed, I've found a new side of myself, and I've gotten to meet and have the support of my hero. This was my amazing prologue, my education, the contained environment where I stopped being clueless and became a musician – and now it's up to me to seize those upcoming opportunities and find out where they take me next. Not unlike the artists I've just spent weeks getting to know. We're all in this together.
And I can't wait.
So, as I sign off for now, I want to give another thank you from the bottom of my heart to my hero and inspiration, the classy and talented Adam Levine. I want to share the love with the members of my team – Javier Colon, Tim Mahoney, Casey Desmond, Devon Barley, Casey Weston, Jeff Jenkins, and Rebecca Loebe – because we'll always be Team Adam forever. I want to congratulate Javier on his well-deserved victory and a prosperous career to come.
I also want to thank you, readers (and all the assistants, publicists and crew who have similarly put up with me), for coming along on this little journey with me. It's been a pleasure to share not just the facts but my own individual story with you, and I hope that you got as much out of it as I did.
Now, what's next?
Photo Credit: NBC