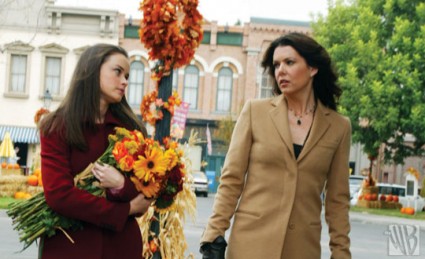 I just noticed the first hints of autumnal color in the leaves on the tops of two trees on my quiet, New England street. Last week, we had a string of days where the temps didn't make it above 70. School is in its first full week. As fall gradually unfurls, my thoughts turn to many things, including whether my beloved Boston Red Sox are going to continue to torture me by going into a slump just in time for the playoffs, when we're going to go apple picking, and what fresh autumn TV shows will become my new favorites when the fall TV season begins.
And I also think about one of my favorite TV shows, the Gilmore Girls, a program which showcased fall in New England quite frequently.
Set in a fictional Connecticut small town named Stars Hollow, about a half-hour outside of Hartford, the Gilmore Girls began in the fall, in September specifically. Its opening credits display the show's title across a background of vibrant foliage. On the DVDs (I own nearly all of the seasons), you make episode selections by clicking on a leaf. The ABC Family website, which has a page for the show, is covered in autumn leaves. Fall and the Gilmore Girls go hand-in-hand, despite Lorelai Gilmore's professed love for snow.
Many memorable, quirky moments occurred in the fall: Rory Gilmore's birthday was in the fall — something that was celebrated during several seasons — and she received her first gift from her first boyfriend, Dean, outside amidst the foliage, while her mother Lorelai looked on through the kitchen window.
Luke Danes was constantly hounded by the Stars Hollow selectman, Taylor Doose, to festoon his diner with festive fall decorations given the restaurant's proximity to the town green where the Thanksgiving Horn of Plenty resided, and where the fall fair was being held.
Rory got her first kiss in Doose's Market while she was awkwardly clutching a box of corn starch near a Thanksgiving display (a box she inadvertently shoplifted), and then ran across the center of the town, stepping around pumpkins and hay bales to share her good fortune with her buddy Lane.
Rory and Lorelai had four Thanksgivings one year when they were emotionally blackmailed and/or cornered by their friends and family, and felt as though they couldn't decline the invitations. The first one was at Lane's house featuring tofurkey, the second at Luke's Diner featuring Luke's gruff banter, the third at Sookie's house, which was highlighted by Jackson deep-frying turkey, and the fourth at Emily and Richard's home where an argument arose over where Rory should apply to college.
When Rory was a freshman at Yale, Emily and Richard insisted on tailgating prior to the Yale/Harvard football game (albeit tailgating with linens, fine china, and the services of a waitstaff). Richard got drunk and ran into an ex, and, when Emily became jealous that he'd maintained regular contact with a former flame, she took her anger out on Lorelai, who'd finagled an invitation to the tailgating soiree at the last minute even though she hated football.
Just a month or so earlier, Lorelai had eased Rory through the college transition by spending the night with her in her Yale dorm, inviting the female students into Rory's suite as they ordered from all the take-out joints in the neighborhood so they could rate them … that's when Lorelai wasn't arguing with Luke over his truck, in which she'd left Rory's Yale-issued mattress.
Are there any TV shows which remind you of the fall? Any favorite fall-related Gilmore Girls' scenes?
Originally posted on my pop culture/politics blog, Notes from the Asylum.
Photo Credit: The WB