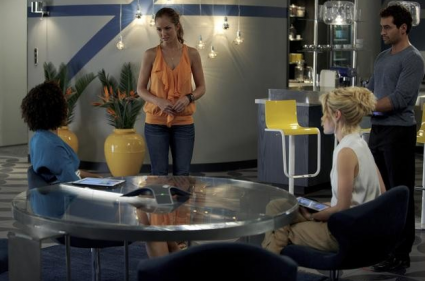 Somehow, around the halls of CliqueClack HQ, I have become known as the Charlie's Angels guy. Sure, I got the opportunity to interview the cast at Comic-Con, and almost wrote a pilot script review a couple of months ago. But I'm not sure where this impression came from. Someone even started a rumor that I'd placed my name next to the show on the big (metaphorical) board on which Keith and Deb deftly manage our coverage. But, in the spirit of premiere "week" (as you can imagine, it's like our birthdays for 21 straight days around here), I felt obliged to chime in and help settle down all of "this show sucks" stuff you might have been reading.
Well, I'm not going to sit here and tell you that the pilot was any good … because it wasn't. It wasn't the worst new show I've seen so far this year (I'm sorry, Wonder Woman, but you were really bad), but it is up there. But there's something you should all keep in mind if you haven't watched it yet. It's a fact that you're probably already aware of, and you shouldn't forget when you watch, or as you reflect on the episode if you have seen it:
Pilots are often not very good. Sometimes, they are only hints and nods to what a show should could be (or will be, if you want to spin the thought all positive-like). The actors are still trying to learn their characters. In some cases, as with Minka Kelly here, the character was so obviously written for someone different, and the performance suffers for it (The most classic example I can give of this happening was the Pilot of The West Wing. CJ Cregg was originally meant for the outstanding CCH Pounder. Go back and watch the first episode again with that in mind, and you can almost hear Pounder's voice in CJ. Then compare how much Allison Janney puts her personal touch into the character in the next couple of episodes).
Plus, there are even some positives. Rachel Taylor is poised to breakout big. I think the casting of Victor Garber as the voice of Charlie is an absolute brilliant move, and filming in Miami has a habit of raising the production values of shows on limited budgets (Just look at Burn Notice). Ramon Rodriguez and Annie Ilonzeh weren't given much to do, so who knows where they could take their characters.
I'm not saying that Charlie's Angels is going to be a great show. Neither the original nor the movies were Shakespeare, and only a fool would imply that this incarnation is going to be anything better. It has had a rough start, but it is going to get better … I promise.
Photo Credit: ABC