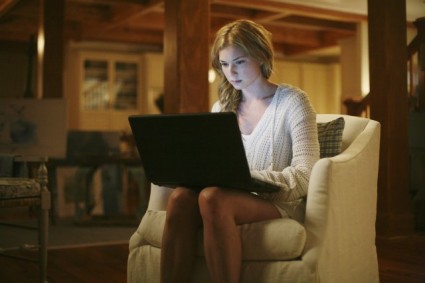 Bob:
There's not a lot of crossover on our viewing habits, and even though it seems like we agree all time in this column, we generally don't agree on much when it comes to the small screen (or big screen, or books for that matter). Today, though, I have a feeling we may be thinking the same thing.
With most of the new shows having already had their premiere, I think it's time to pick a favorite. Per usual, I have to admit that I have been completely underwhelmed with the new shows, but there is one that has shown a lot of promise. Revenge seems to be the winner so far this season. Sure, it's a little campy, and I'm not sure how the writers will keep the story going in every episode, but it is highly enjoyable. Madeleine Stowe has been fantastic as the cruel Queen of the Hamptons. This might be a career rejuvenating move for her.
What do you think about the new shows of the season?
Debbie:
Oh, how I want to quibble with you … it would make for much better reading! But I am head over heels in love with Revenge, and that's the only new show I can say that about. I've dropped Ringer (sorry Sarah, I gave it Carla's three-episode rule), Secret Circle didn't make it past the first episode for me and I've not even tuned into Terra Nova.
I did like Suburgatory, though I don't think I'll bother tuning in every week … sitcoms aren't usually must-see (though Community breaks that mold for me). And I'm anxiously awaiting future episodes (and the ratings!) of Grimm. Revenge and Grimm were my two favorite pilots.
But Revenge, I adore … down to the dog. I love that ridiculous yellow lab and how it's so obvious that he remembers Emily and how Jack is so close to putting it together. I agree that Stowe shines in her role, as does Gabriel Mann as Nolan. The only thing I miss is that Marc Blucas played Emily's father in the flashback scenes in the original pilot but since he was committed to Necessary Roughness, they had to replace him.
Like you, I do wonder how they will keep the story going, particularly if she gets her revenge in one episode each time. Something tells me they'll be able to find more people who wronged her, and eventually, Emily and Victoria will probably be screwing each other over beknownst only to themselves and the viewers, so it will be fun to watch the battle of the bitches (kind of like Damages' Patty and Ellen).
Bob:
Perhaps the conversation is a little premature. I'm still confused as to why there are so many shows that still haven't had their premieres. Do the network programmers think it's a great idea to let everyone set their watching schedule before they introduce a new show? It's just aggravating.
I haven't found any of the new comedies to be very compelling. They have all seemed quite unoriginal. But we're here to talk about the good shows. Certainly I'm not calling Revenge flawless, and there is a good amount of camp in it, but it seems like it's going to be a fun ride. I'm not sure about some of the minor characters, but we'll see how they flush out.
Debbie:
Yeah, the one I'm not sure about is Jack's little brother … begins with a "D" but his name is escaping me; that shows you how much he stands out! He just reminds me of The Karate Kid, that puny little Ralph Macchio getting picked on … so stereotypical. The Grayson daughter is also a bit weak. But this is one show (unlike The Vampire Diaries and Chloe King) that I'm not watching for the teeny-bopper characters.
Photo Credit: Jim Bridges/ABC