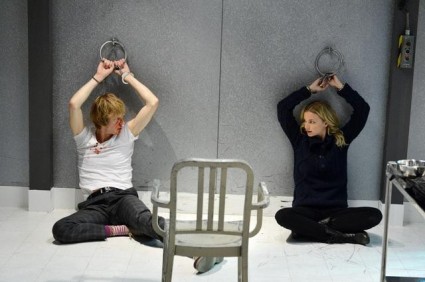 The 2011-2012 television season saw a lot of new shows … some hits, some flops. For the sake of this poll, we're only going to look at the shows that were renewed, because you have to figure that not enough people thought those were the best shows, since they got canceled. When the CliqueClack team was asked their opinions, boy, did they respond! Do their nominations jive with yours?
Katie:  Once Upon a Time. It certainly had (has) flaws, but the characters were much more engaging than I expected when I first heard about the show. I'm looking forward to seeing how the show is going to change next season.
Rachel: I really ended up enjoying Hart of Dixie. It took me until the show was nearly over to start watching all my DVR-recorded episodes, but I'm glad I did. The cast was strong, and although it was silly at times, it was touching at others. Zoe Hart deals with many family-related issues in this series, which leads her to discover where she wants to take her career and what's really important to her.
Also, I can't forget about Revenge! It reminded me of Gossip Girl in its early days, when things were still fresh. Revenge's finale was very thrilling, and I can't wait to see what happens next season.
Jeremy: Of all the new shows, I laughed the most at Don't Trust the B…. in Apt. 23, felt the most at Homeland, hate-watched the most at Smash, and just plain hated at 2 Broke Girls.
An: Last year, during the still huge reality TV explosion I wrote about the dearth of good TV, because I couldn't find any truly addictive shows. But, this year, I LOVED Don't Trust the B—– in Apt 23, Grimm, Once Upon a Time, New Girl, Scandal and Person of Interest. But, seriously, please cancel Smash. Please.
Tara: Wow. I completely disagree with An. I loved Smash. Yeah, sometimes it moved slowly. And sometimes they broke out into song in a real life situation. But, as I have stated before … ever since I first saw a Gene Kelly musical before the age of ten, I wish that the world really was like that. As in? You feel a touch of exuberance walking down the street and break into a little ditty with some soft shoe. Or the boy you love suddenly pours his heart out to you in a lyrical way. Fabulously corny.
I liked the characters and found them to be completely true to the people I used to hang with in the theatre zone. Good or bad. Smash wasn't rocket science. But it was fun. With some really good original songs.
Kim: I enjoyed Suburgatory and Don't Trust the B—– in Apt 23 the most out of these new shows. James Van Der Beek stole the show on Apt 23 and was the main reason I kept watching. I loved his over-the-top caricature of himself and being a famous, narcissistic actor. I really wish they would put him on Dancing with the Stars now after listening to him talk about it so much on the show — he would make a wonderful addition the next season after the all-star reunion.
Liz: I'll throw my vote to Person of Interest as my favorite and the one I look forward to its return the most. They did a good job of taking a high concept idea and making it work in some unexpected ways. They also managed the trick of melding procedural and serial elements that many shows aspire to but few pull off. There's enough character work that it's not all action scenes (though they certainly do that) and they've had some enjoyable guest stars, too.
Julia: I guess my vote goes to New Girl, but there was really an embarrassment of riches this year as far as new television goes. New Girl is probably the show that has made me happy the most consistently, so I'll go with that, but it's by a slim margin. I also really, really loved Once Upon A Time and Suburgatory. (Okay, so I didn't watch Suburgatory when it was on this season, but I'm watching it now as part of my summer catch-up, and it's stellar.)
Bob: Alright, I figured you had enough input here, Deb, but I can't stand by any longer…
How can I not show Homeland some love? True, this season has brought a lot of good shows to TV, but by my count, I think there are only one or two great new shows, and Homeland is at the top of that list. There's so much going for it: superb acting, gripping suspense that manages to feel new and unique, fully realized characters, and a plot with enough intrigue to keep viewers coming back while still being able to sustain an interesting story — it can be done! Far and away the best new drama in my opinion.
I would give the comedy nod to Veep. Julia Louis-Dreyfus is amazing in the role and the show is truly like nothing else on television, which is a huge accomplishment when it comes to comedies.
 Ivey: I was a big fan of Smash, Scandal and Apt 23 when their pilots were released, and after a full season's worth of viewing, I remain fans of them. Sure, Smash wasn't as good as I wanted it to be, I still enjoyed liking it — despite the list of reasons provided explaining why I shouldn't. Scandal was everything I wanted it to be, though it looks like I'll be disapointed in my hope for less of the President in season two. Apt 23 is just plain damn quirky fun.
Jaylen: Scandal, of course! That show is just all kinds of awesome. To be honest, I was a bit hesitant about it at first. Political shows have never really interested me. However, after a little prodding from a few of my my friends, I gave it a try and it changed my life. Kerry Washington just nails it. The writing is superb and the cast is first rate. The show has more twists and turns than a highway built by a crackhead! Needless to say, I'll definitely be tuning in next season!
 Carla: The best new show of the year is definitely Homeland, but Bob covered that perfectly. On network television, there were quite a few entertaining news shows. The one that held my interest the most was Revenge. It was a gripping, suspenseful show with characters that were intriguing whether you liked them or not.
 Christina: There were many great new shows this season, but there is not one that really stands out to be me as something I fell in love with. New Girl, Don't Trust the B—- in Apt 23 and Hart of Dixie are all fun, and Homeland is moving and very well done. I also like Suburgatory a lot, partly because it is something my picky husband will actually watch with me. But I guess I would have to choose Revenge, though, since it has brought back to TV an old-school soapiness I had been missing since my interest in things like Desperate Housewives and Gossip Girl had waned. I really needed some stylish backstabbing back in my life. Emily Van Camp really grew into her role as the season went on, and Gabriel Mann's Nolan Ross is definitely my favorite new character of the season. Nobody can rock a quip — or a double popped collar — like he can.
Chuck: I really enjoyed 2 Broke Girls and Suburgatory. 2 Broke Girls is standard sitcom fare with some pretty racy material for an 8:30 PM show (whatever happened to "Family Hour?"), but the two stars, Kat Dennings and Beth Behrs, have great chemistry and the wisecracks between the two of them are pretty hilarious (some of the other characters are a little cringe-worthy — Asian diner owner, Eastern European cook — but at least Garrett Morris gets by unscathed), and the addition of Jennifer Coolidge to the cast in the second half of the season made it even more of a must-see show for me. I hope she'll be back next season.
Suburgatory is the kind of terrific single-camera comedy ABC does so well. The show has really evolved over the course of the season, going from a wacky Clueless / Mean Girls-style sitcom, with absurd situations and even more absurd characters, to a show with a lot more depth and some dramatic, "real life" storytelling … which was almost a little off-putting after enjoying the more absurd, almost surreal, humor from the first part of the season.  I'm looking forward to another season, but I do hope they can lighten it up just a bit.
What do you think? You may vote once a day in our polls until they expire on Thursday, June 28 at midnight. Good luck to your favorite!
Photo Credit: ABC