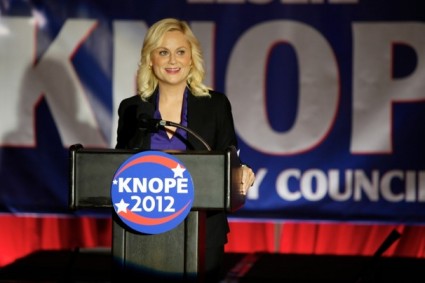 Ah, lead actresses. Finally, a competitive race after last week! And what a race it is. My nominees are:
Zooey Deschanel, New Girl
Tina Fey, 30 Rock
Jane Levy, Suburgatory
Julia Louis-Dreyfus, Veep
Amy Poehler, Parks and Recreation
To everyone who ever doubted in the concept of New Girl or thought that Zooey Deschanel would be too twee and precious or just randomly hated her for no reason and thought she would ruin a show, I hope you're really sincerely enjoying sucking it right now. Because I'm pretty sure that New Girl was the best new show of the season. (Well, Suburgatory might have tied it. It depends on my mood. The point is, it ranks highly.) And while a lot of that certainly has to do with the stellar ensemble, Zooey Deschanel has more than proved she can roll with the big kids and hold her own. Is she aggressively adorable? Yes. Is she awkward? Yes. But does she have pitch-perfect comedic timing, an amazingly expressive face, and is above all weirdly relatable for any girl who's ever felt like she doesn't just have her life all together? Yes, yes, and yes.
I think that a lot of people, including me, sometimes sort of forget why Tina Fey is so great. It's not that we ever forget that she's one of the best comedic actresses of our generation, because that would be stupid. But she makes being funny look completely effortless. You watch her as Liz Lemon on 30 Rock and go, "oh, Tina Fey's just playing herself, that's not that hard". We're all guilty of this. Here's the thing though: it's really hard. And Tina Fey is great at it. She finds a new best friend in a Barnes & Noble bathroom, throws a tantrum in an Ikea parking lot, tries and fails to seduce an internet billionaire who's been in love with her since she played one of the von Trapp boys in a college production of The Sound of Music, gets beat up by guys in off-brand Muppet suits, and we still find this completely natural, funny, and like it's totally happened to us. Which it hasn't. Who the hell gets beat up by guys in off-brand Muppet suits? No one. On top of that, Liz this season has decidedly stopped wallowing and gotten some real character growth as she makes her way through a successful relationship with her boyfriend Criss, and takes major steps towards finally becoming a mother. The old, excellent Liz Lemon plus new character dimension? Yes, please, those are two great tastes that taste great together.
Photo Credit: NBC
This Post Contains Multiple Pages: 1
2