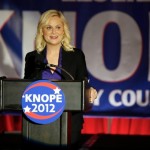 I tend to not watch a lot of shows with teenagers in them for a very good reasons — being a teenager sucked and I don't think that most TV shows tend to capture that very well. Yes, there are the exultant highs you can only get from new hormones and sudden realizations of your own new-found ability to actually do stuff, and the first time you do anything is always exciting. But there's also a heavy amount of hormonally-enhanced sullen anguish and melodrama, and it's hard to find a show that portrays that balance accurately. But Jane Levy's turn as Suburgatory's Tessa Altman is one of the few that I feel really gets it right. Tessa is somehow both loving an scathing, savvy and naive, tough and vulnerable, and above all else, painfully relatable. She plays the smartassed straight(wo)man with a maturity and confidence actresses twice her age still haven't quite mastered, and she's a huge part of what made this tragically overlooked show as charming as it is. (Also, I want her wardrobe. All of it.)
Until this year, I had never understood the hype around Julia Louis-Dreyfus, mostly because I'd never seen her in a show. Seinfeld was both before my time and not my thing at all. (Number one thing I hate: shows where everyone is an unsympathetic and unlovable asshole. Shows where people are all failures, fine. But shows where you don't care for the characters? No thanks.) New Adventures of Old Christine never interested me; but Veep seemed right up my alley. So I watched it, and man, I finally get what all the hype was about. Everything that woman does is funny. Everything. She manages to make Selina Meyers — who I should, by all rights, hate — into someone who I root for for seemingly no reason other than that she's hysterically funny. I get the feeling that Julia Louis-Dreyfus just buys into and commits to her character more than almost any actress I've ever seen, and that's a huge part of what makes the entire show work so well. She's a shoo-in on the real Emmy ballot, and for good reason.
I seriously do not understand the fact that I live in a world where Amy Poehler has not won an Emmy. Nay, I find it unacceptable that I live in a world where she has not only not won that, but she has not also won an Oscar, the Nobel Peace Prize, and the Miss Universe pageant. I'm not sure why she'd win any of those things, I just know that she should win everything. There's at least one moment of every episode of Parks and Recreation where I think to myself "why doesn't Amy Poehler have an Emmy?" But by far the greatest moment came in the episode "The Debate" (which Amy Poehler also wrote and directed — not that that counts in considering the Best Actress Emmy, but I feel it's important to realize that Amy Poehler is overall a stellar human being), where Leslie Knope is, well, in a debate, and her closing argument is magnificent. I wanted to embed a clip of it here because any words I use to describe it cannot possibly do it justice. Just know that doesn't make you break out in goosebumps, make your scalp tingle with sheer awesome, or make you want to give that woman a thousand Emmys, you're watching TV wrong. I'm sorry.
And the winner is… Amy Poehler. Watch the episode. You'll understand.
Photo Credit: NBC
This Post Contains Multiple Pages:
1
2