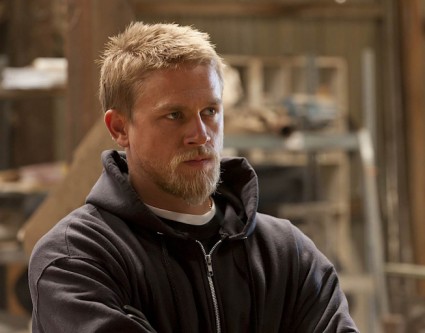 No one's going to mistake Sons of Anarchy for a feminist organization. I've written before about the dichotomy of the strong females beautifully featured on this show and their second-class citizen status. As viewers, we're often torn between rooting for the guys of whom we've grown so fond over the past four seasons, and being absolutely horrified by their actions. This week's episode is one of the strongest examples of this.
We want to believe that beneath the drugs and the violence that these are good guys; especially Jax, the ostensible hero of the show. While he certainly scores points for giving Opie shit for cheating on his wife with the Psycho Porn Star of Doom (with whom he cheated on Tara in season 3), he pretty much loses all of those points, plus any other ones he has accumulated, through his shocking display of violence at the end of the episode.
I've seen it three times now, and that scene doesn't get any easier to watch. It's just so premeditated; so calmly brutal that it's absolutely horrifying. From the way he kisses her, to the time he takes following her into her dressing room, taking care to lock the door, to the way her head bounces off of the makeup table; to call it "troubling" doesn't do it justice. That's to say nothing of his verbal threat and the way he emphatically and vehemently calls her a "whore" before spitting directly in her face, leaving her crumpled on the floor, broken and terrified.
Yes, she's the Psycho Porn Star of Doom, and she did pull a gun on his fiancee and mother. Something obviously had to be done, but to have that something be such stark male-on-female violence manages to be shocking on a show that is filled with all iterations of violence.
The nature of this attack and the general attitude toward women that Jax has displayed puts him in a different light than the one in which he's been portrayed for the first three seasons of the show. Sure, Jax was always violent and had no problem casually using whatever club groupie was hanging around, but it was easy to believe that he was still a good guy deep down. He was always trying to save Tara and seemed, for a while, to treat her differently; as an equal.
However, when she held up her engagement ring and reiterated what she had told him before – that cheating is beyond a deal-breaker – his promises seemed less than sincere. In fact, when he was going back into the dressing room, I fell for it: I honestly believed that Jax was still fucking around on Tara despite everything. While that may not be true, would anyone be shocked if Jax still decided to live by the rules of the road when he goes out of town?
Of course, brutally assaulting one woman and potentially cheating on another still doesn't put Jax in Clay territory. Clay's always been generally evil though, so his actions in this episode are less surprising. As Clay gets closer to the end of his run, he's thinking less and acting more. Gemma and Unser have both been trying to protect Tara in their own ways, but Clay can't be stopped. He puts a hit on Tara to protect himself and to ensure that nothing goes wrong with his last big payday.
It's kind of interesting that the only guys doing alright in the women department are Tig, who can apparently overcome being a legit psychopath long enough to hug his daughter and give her twelve grand for dubious uses (drugs? Murder-for-hire?), and Unser, who's sending death threats to Tara. Sure, he's doing it to get the cops involved in hopes of saving her, but still. When this is the best that the women in SAMCRO's world can hope for, well let's just say that maybe Psycho Porn Star of Doom isn't exactly crazy for carrying that .38 in her purse.
Photo Credit: Prashant Gupta / FX