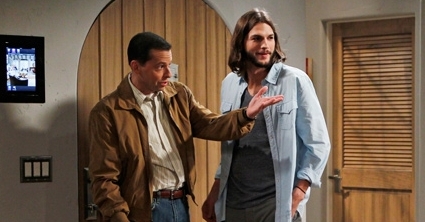 CBS - The battle for #1 comedy on television has been tightly contested all season, and has now worked out as a showdown between Two And A Half Men (15.18m/5.1) and Modern Family (12.2m/5.1). As recently as the first week of November, Modern Family held a full point advantage in the demo. But the tides have turned over the past couple weeks to find Men back on equal footing, and leading in viewers. The even better news for CBS is that along with the great performance from Men, How I Met Your Mother (11.51m/4.5), 2 Broke Girls (12.75m/4.6), and Mike And Molly (12.66m/4.2) are also scoring very well. And… bonus… Hawaii Five-O (11.01m/3) is now ~3m viewers and a full point ahead of Castle. Mondays are very good for CBS.
Earlier in the week, The Amazing Race (9.58m/2.7) looked normal. As did, Survivor (11.59m/3.3), Criminal Minds (12.41m/3.4), CSI (11.14m/2.5), Big Bang Theory (14.02m/4.6), Rules Of Engagement (9.95m/3), Person Of Interest (12.66m/2.8), and The Mentalist (13.04m/2.7). The only real deviation in the plan was the Friday of holiday specials from Frosty The Snowman (7.3m/1.9) and Yes, Virginia (5.51m/1.4).
ABC - The Wednesday comedy block is a step off the pace of what CBS has on Monday, but The Middle (8.72m/2.8), Suburgatory (8.02m/2.8), Modern Family (12.2m/5.1), and Happy Endings (6.38m/2.8) still look pretty good together. Last Man Standing (8.79m/2.7) is hanging around in that same class, but the ground is looking rather shaky for Man Up (4.82m/1.6).
On the drama side… With no new Grey's, Once Upon A Time (9.66m/3.2) was again the leader for the network. Desperate Housewives (8.2m/2.7) followed, finishing out its final season. And, I suppose, that's what Pan Am (4.65m/1.5) is doing as well. Castle (8.12m/2) remains well down without Dancing With The Stars, slipping below Revenge (7.35m/2.4) in the demo. They both remain well above Body Of Proof (7.23m/1.5).
Moving to special event programming… You Deserve It (3.56m/1) probably doesn't deserve to be on the schedule. If you're losing more than 5 million viewers from the xxxth running of Charlie Brown Christmas (9.05m/2.8), the tribe has spoken. Great American Auction (4.77m/1.4) wasn't a lot better, but Wipeout (6.65m/1.9) and Funniest Home Videos (6.5m/1.9) made reasonable stand-ins.
FOX - The excitement last week came on Sunday, where a boost from the NFL had The Simpsons (9m/4), Allen Gregory (5.26m/2.4), Family Guy (7.14m/3.6), and Cleveland (5.47m/2.5) all up. The demo scores for The Simpsons and Family Guy are particularly notable as that made them the top two demo shows for the network. Both finished above X Factor (10.7m/3.4 – 9.84m/2.9).
Elsewhere, nothing too exciting to report for Glee (7.11m/3), New Girl (6.79m/3.4), Raising Hope (4.57m/2.2), or Bones (8.11m/2.4). The iffy bits came in the form of the American Country Awards (7.47m/2) and week two of I Hate My Teenage Daughter (5.38m/2.1). That's a pretty big drop from the premiere.
NBC - Sigh… Not even Michael Bublé could pull the peacock out of the tailspin. His Christmas special (7.07m/1.5) was middle of the road, at best. I suppose it does look a little better if you set it next to The Sing Off (4.18m/1.1), Rock Center (3.42m/.9), Harry's Law (7.08m/1.2), Community (3.6m/1.5), and Chuck (3.66m/1).
Looking slightly better were Biggest Loser (6.67m/2.2), SVU (7.03m/1.9), Parks & Rec (3.64m/1.8), and Whitney (4.08m/1.9). Not really better, but more interesting, was the result of the time-slot premiere of Grimm (4.09m/1.6) on Thursday. That was a small demo gain over Prime Suspect, but still lower than the other new episode that aired on Friday (5.42m/1.6). It will be interesting to see if the Thursday numbers shift toward the Friday results. The Office (5.79m/2.9) remains well behind the Michael-pace, but does deserve a nod for taking the demo crown at 9. Sunday Night Football (18.9m/7.4) dominated, as usual.
CW - There were only four results to report for the week, including Gossip Girl (1.28m/.6), Hart Of Dixie (1.81m/.8), 90210 (1.46m/.8), and Next Top Model (2.39m/1.1).
CABLE - There were a few interesting bits from the cable results last week. First, the lack of zombies on Sunday meant bad things for Hell On Wheels (2.7m/.8), and good things for Boardwalk Empire (2.97m/1.3). More interesting though, were the numbers from Tuesday. Not only did the big season finale of Sons Of Anarchy (4.24m/2.1) not win the night, it finished fourth. American Chopper (4.77m/2.4), Teen Mom II (4.15m/2.4), and Storage Wars (4.79m/2.1) took the top 3 spots. That was still a good result for SOA. The interesting bit is cable putting four shows above 2 in the demo on the same night while the four big networks had 25 shows that couldn't hit that mark last week. Or, if we really want to be a little mean with the numbers, this means that Teen Mom II scores better in the demo than 14 of the 17.5 hours of new programming NBC had last week. Yikes.
Basic

Leverage (1.83m/.6)
The Closer (4.85m/.8)
Rizzoli & Isles (3.86m/.8)
Covert Affairs (3.2m/1)
Warehouse 13 (1.58m/.5)
Eureka (1.4m/.4)
Haven (1.2m/.4)
American Horror Story (2.54m/1.6)
Psych (2.7m/1)
Burn Notice (2.79m/1)

Good Luck Charlie, It's Christmas (4.76m/.7)
It's Always Sunny (1.4m/.9)
The League (1.03m/.7)
Beavis & Butt-Head (1.4m/.8)
Hot In Cleveland (1.42m/.3)
Neverland (2.59m/.7 – 2.09m/.7)
Hide (1.3m/.4)
Sons Of Guns (3.16m/1.6)
Pawn Stars (4.77m/1.8)
Top Chef (1.7m/.8)

Premium

Dexter (1.88m/.9)
Homeland (1.22m/.4)
Hung (.93m/.4)
Enlightened (.19m/.1)
Photo Credit: CBS