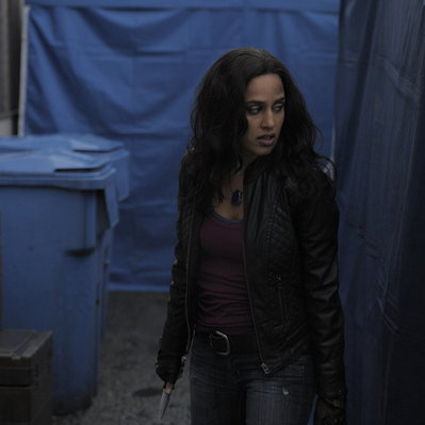 Sanctuary concludes the war of Hollow Earth abnormals versus surface earth humans in a high energy episode. Surprisingly, I enjoyed this week's show more than season three's finale (and possibly more than season four's premiere). They did a good job of balancing Garris' fears as the Hollow Earth abnormal leader alongside Villanova's concerns for his upland world. The Lee character seems pretty one note, so I'm sorry we'll probably see her return. I figured Fallon hadn't died, but learning initially soft-spoken Garris assisted her shocked me; but, I loved the sting operation Biggie and Kate set up.
This week they listed Agam Darshi's Kate Freelander as a recurring character. This explains why she doesn't appear in this season's group publicity shots and I agree with the decision. I don't want her to disappear from the Sanctuary universe; but, I don't want writers shoehorning her into episodes where she doesn't fit. I wonder who made the decision — Agam or the producers. I didn't go to the SyFy Digital Press Tour, but I'll have to ping someone who did to find out.
I enjoyed Garris (David Milchard) as Kate's romantic lead and Milchard's talent, I hope he will return. Yet, watching him kidnap Kate or ask Kate to hide herself seemed odd. I'm not used to seeing Kate play the "girl." I'll assume she let Garris kidnap her considering we saw her kick the ass of two other guys and one huge abnormal at the twenty-five minute mark.
I enjoyed seeing Will under pressure as the temporary Sanctuary head and I hoped Magnus (Amanda Tapping) wouldn't show up too soon. Admittedly, I found it odd that even when crowned king, he continued to receive the cold administrative agency shoulder. Yet, at the same time, Will never announced his new position, when he re-contacted them.
I liked the return of Abby (Pascale Hutton). Clearly, she isn't going anywhere anytime soon, especially after Magnus stated the two kids worked well together. On a side note, I liked the hint at Abby's other relationships. Abby's introduction as an awkward geek made her relatable, but let's not pretend that Pascale Hutton isn't an attractive woman. However, someone refresh my memory. I thought Abby was just an analyst. Why did she have a gun when they learned that "someone was in the building" (or did Will hand that off)?
Speaking of that cult classic line, what did people think of Magnus' return? I know I seemed critical of Magnus last week, but I want to emphasize that I found Tapping's bestial anger mesmerizing. Her ability to convincingly channel so much intense insanity wowed me. She awesomely did Hyde better than Adam and Ripper better than Druitt. However, this week we have our placid, yet energetic Magnus back. I'm glad, but I hope Kindler continues to play with her dark side.
The first two episodes set up a lot of plot points for season four to follow: Sanctuary against the world's governments, the Sanctuary handling the new abnormals, Kate's under earth difficulties, the possible return of Fallon, and Magnus' 113-year journey.
Next week looks kind of awesome. I'm going to assume it continues the world's governments as the new Cabal. While they might not want abnormals for profit, they want them for experimentation or as defense tools. So, no doubt, we'll see competing missions this season a la the Sanctuary versus the Cabal.

Quotes
I love it when Sanctuary plays with pop culture:
"Are you saying you're better than me because you're a werewolf? I resent that." -Will
"Bigger, faster, stronger … let's not argue semantics, Will." -Henry
"Have fun storming the castle." -Will (to Henry)
"Take me to your leader. Yes, I just said that."- Henry
"Are you saying the breach is coming from inside the sanctuary?" – Will
Photo Credit: SyFy