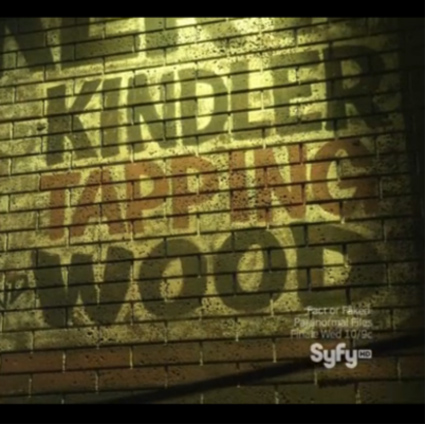 I have a confession to make. I hate contemporary musicals. Because I grew up attending Broadway plays and watching 1950s movies, I always prefer my musicals in Technicolor. I hate post-'80s musicals that use the heavy '80s hard rock and one-note percussion beat. For me, musicals mean both vocal AND visual variety. So, TV shows performing musicals with actors/directors without a musical theatre background while providing rock songs and monochromatic backgrounds rarely impress me (*cough, cough* Buffy).
I'm glad that Kindler and company showed restraint, by mixing music with spoken word, in case we didn't enjoy the musical part. Although I won't provide an in-depth critique of the performances, I particularly enjoyed Pascale Hutton's soprano and Jim Byrnes' surprise appearance. He has such a great musical presence. I loved when Highlander featured his talents, and I loved him here. Although not on Hutton or Byrnes' level, the rest of the cast's vocal talents also impressed me. Although rough, everyone did a good job.
However, the Hollow Earth insurgents setting traps for Sanctuary associates surprised me. I could see their trying to spring traps on the FBI (or similar groups) that want to destroy Hollow Earth abnormals, but not to the group that wants to help them (and, currently, holds the least public power).
Also, I liked the return of the Will and Magnus friendship. FINALLY!
However, one thing concerns me. Each week and each season we learn the difference between Magnus and other Sanctuary heads. Despite their dedication to helping abnormals, the heads always hit a point where they fear for the safety of their loved ones, their communities or their personal safety. But, Magnus never stops. And, despite potential love interests as we saw in "Carentan" and "Out of the Blue," Will never stopped, either.
However, this week, Will finally hesitates in pursuing the truth while fearing for Abby's safety. It makes sense now that that Sanctuary's alternate future failed without Magnus (even with Will in the lead). And, I'm slightly concerned. Will's emphasis that the surgery should not have occurred, hints that even he has limits. Will anyone brilliantly dedicate their lives to the cause as wholly as Magnus?
Additional Thoughts:
I'm glad that Kindler and crew will take their time with the Abby and Will relationship. I hate when contemporary TV tries to force characters into marriage after six months of dating.
I like that they're slowly mentioning Ashley again
Getting rid of Kate proved best, because we really see Henry stepping up in the field.
I suspected that Gavin had set Abby up. After all, he walked around the halls overhearing conversations; he now knows the combination to one of the cells and he knows where the blasters are kept. I like the actor, but if someone appears clueless and incompetent  on Sanctuary, I typically assume they're something else.
Did they explain why Declan joined the mission that week?
Did anyone else notice the easter egg in the opening shot (shown in the photo above)?
So … in a Sanctuary: the Musical vs. Buffy: The Musical cage match, which would you vote for or do you amicably enjoy both?
Quotes:
"Stop with the constant apologizing." – Henry
"Sorry …. My mother was Canadian." – Gavin
"Oh, don't worry, Gavin. I haven't devoured a Canadian in months." -Henry
"Don't worry, mate, my Sex Pistols days are long gone." – Declan
Photo Credit: An Nicholson