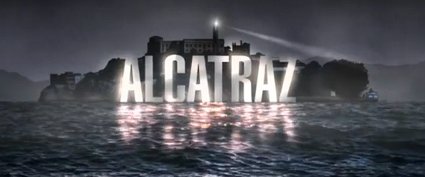 FOX - The big premiere last week was obviously American Idol (21.93m/7.4 – 18.02m/5.7). As has been the pattern over the last few years, it was down again, but still a huge draw for the network. What is notable is that the fallout on other networks is becoming less and less. In fact, in the 8:00-8:30 half hour on Thursday, Big Bang Theory actually topped Idol in the demo. Modern Family also held up extremely well facing the Idol juggernaut.
Really though, there's not much surprise in any of the Idol numbers. Perhaps the more interesting premiere for FOX last week was Alcatraz (10.05m/3.3). That's a solid, if not great, debut putting the show ahead of where Terra Nova premiered (9.22m/3.1). As with Terra Nova, retention of those initial viewers, or the lack thereof, will tell the whole tale.
The big disappointment for the week came from week two of The Finder (6.58m/2.2). It was slightly up over the horrible premiere result, but falls drastically short of what the network was getting from Bones (10.55m/3.5) in the same spot a year ago.
Earlier in the week, football playoffs made for a crazy boost to the Sunday animation block of The Simpsons (11.48m/5.4), Napoleon Dynamite (8.74m/4.4), Family Guy (8.31m/4.4), and Napoleon Dynamite (6.88m/3.3). The rest of the week was made up of Glee (7.5m/3.1), New Girl (6.97m/3.4), Raising Hope (5.03m/2.3), Kitchen Nightmares (3.88m/1.5), and Fringe (3.19m/1.1)
CBS - It was a solid week for the Tiffany network, with the two big highlights coming on Thursday. As mentioned, Big Bang Theory (15.83m/5.3) actually topped Idol (5.2) in the demo for the half hour. That's a huge win. And we all owe a round of applause to CC commenter Ryan who didn't believe that an Idol-booster Finder could do any damage to Person Of Interest (14.4m/3.2). He was correct, as POI is looking as strong as it has all season.  Rob (11.41m/3.5) and The Mentalist (14.22m/3) finished off the night.
That came at the end of a week that started a bit slow with Undercover Boss (11.59m/3) and The Good Wife (9.45m/2) before really taking off on Monday. How I Met Your Mother (10.08m/4.4), 2 Broke Girls (11.4m/4.6), Two And A Half Men (13.02m/4.6), Mike & Molly (11.09m/3.8), and Hawaii Five-O (10.73m/2.8). The interesting bits there are 2 Broke Girls pulling even with Men in the demo, and Five-O sliding past Castle in both measures. The other new entries were Criminal Minds (13m/3.2) and CSI (12.02m/2.8).
NBC - The week started very well thanks to the Golden Globes (16.85m/5). That was just slightly below the numbers for last year's telecast. But that was rather expected. What wasn't, was Bettie White's Birthday (13.86m/2.7) and the premiere of Off Their Rocker (12.26m/2.6). At a time when only The Office seems to be able to top 2.5 in the demo, both of those results are rather surprising.
Comedy does continue to be a struggle for the peacock. There were 23 half-hour comedies on the networks last week, and Whitney (4.15m/1.6), Are You There Chelsea (4.21m/1.7), 30 Rock (4.05m/1.6), Parks & Rec (4.25m/1.9), and Up All Night (3.98m/1.9) were numbers 19 through 23 in the ratings. Only The Office (6.02m/3) breaks the trend.
Of course, drama brings issues as well, with Parenthood (4.97m/1.7), Harry's Law (6.41m/1.1), SVU (6.42m/1.8), The Firm (3.42m/.9), and Chuck (3.85m/1.1). The only (slightly) bright spot seems to be Grimm (5.9m/1.8). Not a great number, but not horrible given the Friday at 9 slot. The other new entry was Biggest Loser (6.66m/2.3).
ABC - Once Upon A Time (9.83m/3.3) held up very well against the Golden Globes before Desperate Housewives (7.91m/2.1) and Pan Am (3.82m/1.2) took a hit. Things were a little better Monday, with The Bachelor (7.43m/2.4) and Castle (9.41m/2.2). Last Man Standing (8.59m/2.6) bounced back on Tuesday, while Celebrity Wife Swap (5.84m/2.1) and Body Of Proof (7.94m/1.6) continued to tread water.
The best news probably came Wednesday, where The Middle (8.08m/2.5), Suburgatory (7.05m/2.5), and Happy Endings (6.05m/2.9) all weathered the storm of the Idol premiere, while Modern Family (11.89m/5.1) held strong at hit status. The result for Revenge (7.67m/2.5) was solid as well. The show is cementing itself as the top demo draw for the network at 10. Thursday, Wipeout (5.85m/1.8) suffered more than most from the Idol appearance, while Grey's Anatomy (9.42m/3.5) was ok, and Private Practice (6m/2.1) was off the pace. The week ended with premieres for Shark Tank (6.23m/1.7) and What Would You Do (5.83m/1.6).
CW - It was a tough week for the little network. The premiere of Remodeled (.67m/.3) went largely unnoticed, and the rest of the shows had nothing exciting to report. Gossip Girl (1.29m/.6), 90210 (1.25m/.6), One Tree Hill (1.53m/.7), Vampire Diaries (2.71m/1.1), and Secret Circle (1.63m/.7) again have me wondering how long the network can keep going in this direction.
CABLE - It was a huge week on cable for premieres and finales. Leverage (2.55m/.8) and Hell On Wheels (2.84m/.7) both closed out their seasons. Meanwhile, Being Human (1.81m/.9), Lost Girl (1.47m/.5), White Collar (3.23m/1.1), Justified (3.07m/1), Southland (1.76m/.6), Royal Pains (3.26m/.9), and Archer (1.31m/.7) all kicked off new campaigns. One other curious note, a new iCarly (4.27m/.9), randomly appearing on a Monday this time, had more viewers than all of them.
Basic

Pretty Little Liars (2.78m/1.1)
Switched At Birth (1.99m/.7)
The Game (3.64m/2)
Let's Stay Together (2.21m/1.2)
Hot In Cleveland (1.42m/.3)

Pawn Stars (6.14m/2.4)
Teen Mom II (3.36m/2)
Storage Wars (4.89m/2)
Face Off (1.81m/.8)
Jersey Shore (6.16m/3.5)

Premium

Shameless (1.25m/.7)
House Of Lies (.89m/.4)
Photo Credit: FOX