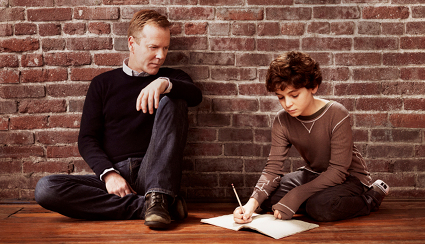 CBS - It was a short week for CBS, with only five new entries. And it didn't get off to a great start when Undercover Boss (9.25m/2.3) had to go up against the NFC Championship. Business picked up on Wednesday, with Criminal Minds (13.81m/3.7), and CSI (14.26m/3.4). But the real treat came Thursday, where Big Bang Theory (16.13m/5.5) again bested Idol in the demo (5.5 to 4.9). Rob (11.5m/3.5) finished the week.
FOX - Apparently, the next best thing to the Superbowl is the NFC Championship (57.63m/21.4). It made for the beginning of what was a nice week for the network. House (8.76m/3.1) was back on Monday, with Alcatraz (9.03m/3) holding on to most of its premiere audience. I'll be curious to see where the show is in two weeks when CBS is back with a full Monday. American Idol (19.67m/6.5 – 17.14m/5.5) had another down, but strong, week. That gave a very nice boost to the sneak of Touch (12.01m/3.9). That is an encouraging number, but will probably mean very little when the show makes its Monday debut in March.
The Finder (8.44m/2.8) also had a good week, hitting highs in both measures with its third episode. Good news, but not something to place much value on considering there was no new Office, Grey's, or PoI to compete. Expect a sharp drop next week. Things finished with Friday's duo of Kitchen Nightmares (3.44m/1.4) and Fringe (3.37m/1.2).
ABC - ABC was also on a short schedule, and again the big news came from Once Upon A Time (9.33m/3.2). That is down, but not by much considering it was dealing with the 57 million viewers going to football. Desperate Housewives (7.48m/2.6) and Pan Am (3.74m/1.2) werent' nearly the same draw. The Bachelor (8.3m/2.7) took advantage of a slow Monday to gain some ground before handing off to Castle (10.05m/2.1). The other new entries were on Friday, Shark Tank (5.45m/1.6) and What Would You Do (5.19m/1.7).
NBC - The peacock had the most new programming, but it was again a quantity over quantity thing. Biggest Loser (6.42m/2.1) was the only show that managed to crack 2 in the demos. Sunday didn't offer any help to the failing Prime Suspect (4.31m/.8). Slightly more positive … Monday offered gains for Who's Still Standing (6.44m/1.7) and Rock Center (7.13m/1.6) but that's really going from horrible to not-so-horrible. Not unlike the series finale presentation from Chuck (4.12m/1.2 – 4.32m/1.3).
Comedy remains a huge problem. Wednesday is sinking fast with Whitney (4.4m/1.4) and Are You There Chelsea (3.8m/1.4). And the idea to hand the Office spot over to 30 Rock (3.98m/1.9) was not a good one. Yes, that was better than the 8pm 30 Rock (3.82m/1.6). But with Parks & Rec (3.49m/1.7) and The Firm (3.8m/1) joining in, NBC didn't have one show get over 4 million viewers on Thursday, despite five hours of repeats between ABC and CBS. At this point, it borders on ridiculous that any of these shows are still on the air.
CW - Another off week included Gossip Girl (1.11m/.6), Hart Of Dixie (1.23m/.5), 90210 (1.24m/.7), Remodeled (.89m/.4), and One Tree Hill (1.46m/.7).
CABLE
Basic

The Lying Game (1.66m/.7)
Pretty Little Liars (3.17m/1.4)
Jane By Design (1.48m/.6)
Being Human (1.65m/.7)
Lost Girl (1.11m/.4)
White Collar (3.47m/1.1)
Justified (2.71m/.9)
Southland (2.17m/.6)
Royal Pains (3.37m/1)
Switched At Birth (1.9m/.8)
The Game (2.88m/1.5)

Let's Stay Together (2.04m/1.1)
The Exes (.93m/.2)
Hot In Cleveland (1.43m/.3)
Archer (1.12m/.6)
Pawn Stars (7.09m/2.7)
Teen Mom II (3.9m/2.2)
Storage Wars (4.98m/2.1)
Top Chef (1.83m/.9)
Face Off (1.69m/.8)
Jersey Shore (6.53m/3.8)
Project Runway (2.21m/.8)

Premium