Rayce Bird wins season 2 of Face Off
When you've been uniformly true to type and evenly persistent throughout a grueling competition and your designs light up the eyes of the judges week in and week out, you deserve to win it all.
- Season 2, Episode 10 - "The Ultimate Spotlight Challenge"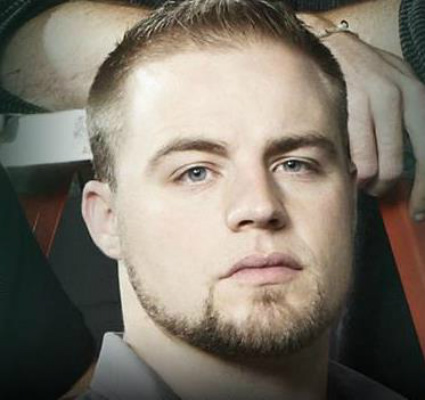 See? That's what I'm talking about. Rayce Bird wins this season's exhausting Face Off competition.
Even in light of the fact his alien's head was peeling off the neck of his model in the final challenge, Rayce still managed to pull out a convincing win over Ian and RJ. That's testament to how good the guy really is.
Let's review some of his work:
Remember his Cowardly Lion creation during the Return To Oz premiere?
How about his aquatic Water World production?
His body painting has been pretty damned spot on despite the fact he (and most of the hopefuls, for that matter) rarely had time to apply paint properly or to their preferences.
One of my favorites was his imagineering of the Burtonesque cello player: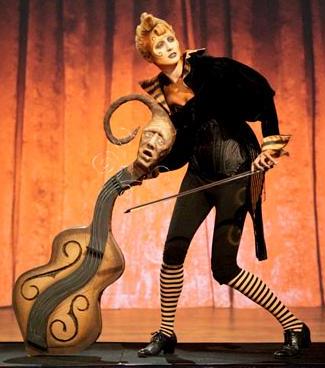 Add to that his interesting illusion of shadow across the three characters he created in finale and you have the cherry on top of this whole shebang.
The dude has been consistent throughout. Flubs and mis-applications turn into winning notations for the guy. When you can do that, when you can think on the fly in the heat of competition and the race is on the line, you deserve to win Face Off. Rayce did that every step of the way.
And that's why I ultimately championed him last episode to win this thing. And he did. Deservedly so.
Congratulations, Rayce.
Notes:
Ian's smash-faced creature was a kick of a design.
The surprise on the contestants' faces when Michael Westmore (Face Off host McKenzie's award-winning father) came in to evaluate and offer tips during the challenge was a delight to witness.
What? No drama from the support group of previous hopefuls who came back to assist in the finale? WowZah. Not even a peep out of Beki which was a nice change of pace. That alone made me gain a tad of lost respect for her. She knew it wasn't about her this time around and diligently worked as a team player. Bravo.
Photo Credit: SyFy