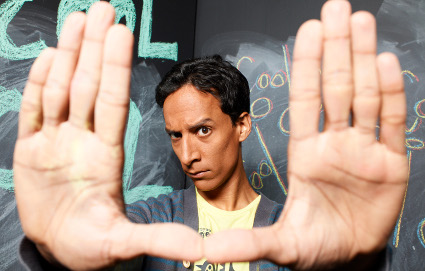 NBC - There hasn't been a lot of good ratings news for the peacock this season. And what little of it there has been hasn't had anything to do with Thursday's at 8:00. But that all changed last week. Quite surprisingly, Community (4.75m/2.2) returned from its break with season high ratings. Granted, those still aren't great numbers, and they came with the NCAA tournament doing a very poor job at filling in for Big Bang Theory. It's kind of a case of moving from disastrous ratings to not that horrible ratings. The shiny silver lining comes in the fact that not that horrible ratings move a show to the head of the class at NBC. That put the Greendale gang well ahead of 30 Rock (4m/2), Up All Night (3.49m/1.7), Whitney (3.91m/1.4), and Chelsea (2.88m/1.1). In fact, Community came up just short of The Office (4.87m/2.4). It was probably the best that a Community fan could have hoped for, and it makes the next few weeks of numbers very interesting.
Elsewhere, Monday's combination of The Voice (14.51m/5.2) and Smash (7.04m/2.4) remains the strongest night for the network. The Voice was down quite a bit, but we can probably chalk most of that up to the usual erosion that is seen when the clocks get turned. Celebrity Apprentice (6.45m/2) and Biggest Loser (6.46m/2.1) checked in as the best of the rest. Unfortunately, Fashion Star (4.55m/1.6) didn't find much success in its debut, and Awake (5.12m/1.6) remains an iffy answer for 10PM on Thursday. The most puzzling result though, comes from Harry's Law (9.05m/1.1). That gives it the rare double shot of having the most viewers of any scripted show on the network AND the lowest demo number. Is the viewer number enough to save it? I wouldn't bet on it.
ABC - An almost complete schedule started on an okay note with Once Upon A Time (9.29m/2.9), Desperate Housewives (8.39m/2.6), and GCB (7.12m/2.3). GCB is of particular note, as it managed to gain in the demo in week two. If it can stay at, or around, that number things look pretty good. Monday was also solid, with The Bachelor (9.23m/2.9) and After The Final Rose (9.87m/3.3) bringing another season to an end. It remains a solid filler between Dancing With The Stars runs.
The dark spot in the schedule continues to be Tuesday. Cougar Town (4.17m/1.4), The River (4.09m/1.3), and Body Of Proof (7.46m/1.4) are all in trouble at this point, checking in as the three lowest rated scripted shows on the network in the demo. Wednesday looked a little better, although it would seem that there was a bit of a spring drop for The Middle (6.93m/2.1), Suburgatory (6.21m/2.1), Modern Family (10.6m/4.5), and Happy Endings (5.27m/2.4). And Revenge For Real (4.37m/1.2) was just a bad idea from jump street. The week wrapped with Missing (10.6m/2.1), Grey's Anatomy (9.62m/3), and Private Practice (6.85m/2.1). Missing, like Harry's Law, is a curious result. That is an awfully old-skewing show. I'll be curious to see what happens in week two.
FOX - The Simpsons (4.97m/2.3), Bob's Burgers (4.04m/1.9), Family Guy (5.74m/2.8), and American Dad (4.62m/2.2) got the week off to an okay start before the iffy business of Monday and Tuesday. Flying solo isn't doing any favors for Alcatraz (5.07m/1.6). That looks even worse when compared to a repeat of Touch (8.57m/2.2) on Thursday. You can bundle Raising Hope (4.31m/1.8), I Hate My Teenage Daughter (3.57m/1.4), and Breaking In (3.38m/1.5) into that conversation as well. New Girl (5.74m/2.8), on the other hand, remains a safe bet for next fall. And, as has become the norm, American Idol (18.38m/5.4 – 16.02m/4.6) had another down, but still very strong, week.
CBS - It was a bit of a slow week for the Tiffany network. Sunday was normal, with The Amazing Race (9.7m/2.9), The Good Wife (9.88m/1.7), and CSI Miami (10.72m/2.1). Notable there is that The Good Wife and The Amazing Race were also renewed for next season, but CSI: Miami hasn't been yet. Awards do carry some weight. Also renewed is the entire Wednesday lineup of Survivor (10.56m/3), Criminal Minds (11.43m/2.8), and CSI (11.71m/2.8). And that was all the new programming for the week, as Thursday (4.3m/1.5 – 4.13m/1.5) and Friday were dedicated to the NCAA tournament.
CW - It was 80% of a full week for the CW, and about 87.5% of that 80% was disappointing. At this point,the thing I find most interesting is wondering just how long the powers that be at CW ram their heads into the same wall without trying something different. The numbers - 90210 (1.16m/.6), Ringer (1.11m/.4), One Tree Hill (1.52m/.8), Next Top Model (1.01m/.5), Vampire Diaries (2.64m/1.2), Secret Circle (1.62m/.7), Nikita (1.53m/.5), Supernatural (1.69m/.7).
CABLE - The big story on cable was that the previously renewed Luck (.47m/.1) has now been canceled. The reasoning coming down from HBO has to do with another accidental death of a horse on set, but … I'm just cynical enough to believe that if Luck was a little more True Blood in the ratings, as opposed to In Treatment, there would be all kinds of changes coming down the pike so filming could resume. Elsewhere, South Park (2.63m/1.5) had a big premiere, and Face Off (2.47m/1.1) had a big finale. That looks all the more impressive when standing next to the latest results for Being Human (1.36m/.6) and Lost Girl (1.19m/.4).
Basic

The Walking Dead (6.89m/3.6)
Army Wives (3.04m/1)
Breakout Kings (1.7m/.7)
Pretty Little Liars (2.47m/1)
Justified (2.26m/.9)
Southland (1.76m/.6)
Switched At Birth (1.7m/.8)
Psych (2.57m/.8)
The Game (2.39m/1.2)
Hot In Cleveland (1.31m/.3)

Happily Divorced (1.03m/.2)
Archer (1.16m/.7)
Unsupervised (.59m/.4)
Comic Book Men (1.74m/.9)
Swamp People (5.23m/2)
Jersey Shore (4.99m/2.7)
Project Runway (2m/.7)
After The Runway (1.13m/.3)
24 Hour Catwalk (.63m/.2)
Full Metal Jousting (1.76m/.8)

Premium

Shameless (1.31m/.7)
Eastbound & Down (.99m/.6)
House Of Lies (.7m/.4)
Californication (.68m/.4)
Photo Credit: NBC