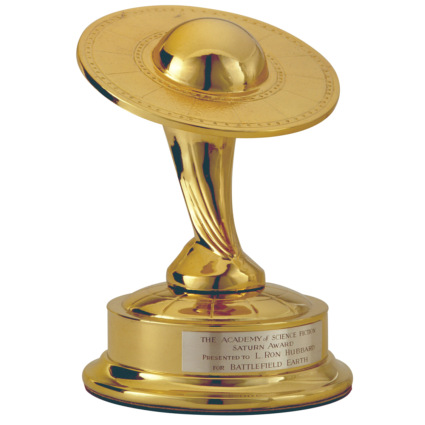 The 38th Annual Saturn Awards (presented by The Academy of Science Fiction, Fantasy and Horror Films) took place in Burbank, California at The Castway restaurant last week. Following you'll find a few photos from the event.
Of the notables there, one of the most striking was Richard Grieco (21 Jump Street) who may have glared dauntingly, but broke into a smile several times when he was caught off guard. The still striking Marina Sirtis (Star Trek: The Next Generation) sported a new shoulder tattoo and joked about her neon orange toenails "only a hooker would be caught dead in," James Remar (Dexter, Jericho) appeared embarrassed at all the attention he was receiving and Barbara Eden (I Dream of Jeannie, Dallas) was showing off a little too much leg in a black dress that appeared slit all the way up to her neck. Good times … good times.
Some of the awards given out on the television side of the ceremony included Best Network Television Series: Fringe; Best Syndicated/Cable Television Series: Breaking Bad; Best Television Presentation: The Walking Dead; Best Youth-Oriented Television Series: Teen Wolf; Best Actor on Television: Bryan Cranston, Breaking Bad; Best Actress on Television: Anna Torv, Fringe; Best Supporting Actor on Television: Aaron Paul, Breaking Bad; Best Supporting Actress on Television: Michelle Forbes, The Killing; Best Guest Star on Television: Tom Skerritt, Leverage; The Life Career Awards to Frank Oz and James Remar; The Innovator Award to Robert Kirkman for The Walking Dead and The Appreciation Award to Jeffrey Ross (M'larky, Where My Dogs At?) for a decade of hosting the Saturn Awards.
(And stay tuned for a few brief one-on-one interviews I was able to wrangle with Robert Kirkman and Glen Mazzara of The Walking Dead. I'll post the link here later. It'll be comin' 'round the mountain when it comes! Shortly!) Update: Here it is!
Tom Skerritt (Alien, Leverage); Joel Courtney (Super 8)
Dennis Haysbert (24); Scott Bakula (Quantum Leap, Men of a Certain Age, Star Trek: Enterprise)
Photo Credit: The Academy Of Science Fiction, Fantasy And Horror Films, Michael Noble